Fall into fall: the most alluring season
Hang on for a minute...we're trying to find some more stories you might like.
Imagine walking through the forest, the crisp autumn wind clears your head. In a plethora of different colors, the leaves cascade into small piles all around you. Nothing feels better than the crunch of leaves under your feet as you snuggle further down into your favorite sweater. Some believe that summer, winter, or spring may be better, but I stand by my proclamation that fall is the best season for many reasons.
First of all, fall is my favorite season because of the color changes. From red to yellow and orange, fall is a season of grandeur. The leaves are gorgeous and they flutter into neat leaf clusters on the ground. Which leads me to my next point: leaf piles! They are so much fun to play in and they are very nostalgic. Who doesn't remember jumping into a pile of leaves as a kid (or at least throwing a handful of them at your siblings)?
Another thing I love about fall is that the outdoors becomes so much more inviting. You no longer have the sweltering days that threaten to melt your skin off, you have the tepid autumn air filling your lungs. Autumn temperatures also top the frigid and biting days of winter that seem to loom over oneself throughout the year. Fall is the nice temperatures that allow you to wear shorts or a sweater in, and I wish it was that way year round. Additionally, with nice weather comes long hikes through the forest or serene places. Gone are the days of constant mosquito pestering, only slight bug bites persist.
Furthermore, fall is great because of the obvious: football and holidays. There's nothing better than a house full of family, good food, and laughter on Thanksgiving as you watch grown men beat each other to pulps. I love Thanksgiving because it actually gives us a full day to appreciate our lives and thank the ones around us. Football is great because it is the epitome of athleticism and tactics of today's sports in America. Football is also a staple in many families' households because it brings people together, and they can bond (or fight) over their favorite teams.
Let's not forget about one of my favorite holidays: Halloween! This horror holiday rolls around right in the middle of fall itself. Crazy costumes and candy: what day could be better? It is accompanied with many of the best things about fall. The corn mazes that gear up to go in with your friends always make it fun to get lost. There are also many other fun pumpkin flavored things, like pumpkin pie, pumpkin Oreos, and ALL of the glorious pumpkin spice flavored things (calling all the other basic white females).
Even if fall isn't your favorite season, I hope all of these things can at least show you the beauty of autumn and make you appreciate it a little bit more. But alas, what can you do to enjoy this glorious season and all of its perks? Grab a cup of cider, curl up with your favorite book, and try to forget the impending doom of winter that is looming over our heads.
About the Writer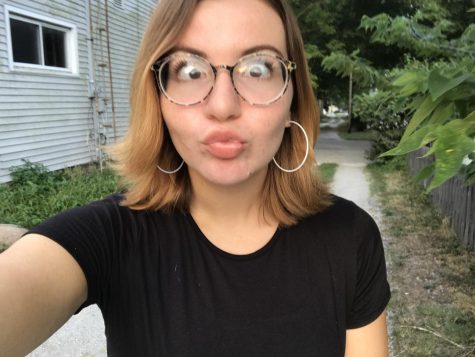 Elizabeth Walker, staff writer
Elizabeth is excited to be a returning for her second year of Parnassus. She is a senior at Delphi Community High School. She loves walking her dogs, watching...