The First Snowfall
Hang on for a minute...we're trying to find some more stories you might like.
Winter is officially here and when winter comes, the weather changes with it. When that first snowfall comes, are you excited, scared, happy, or angry? It is indeed a beautiful sight to see, but with that beautiful sight comes all sorts of different emotions. Everyone has their own opinion when it comes to the weather around the holidays. What is the first thing that comes to mind when you see the first snowfall? Let's see what faculty and students have to say:
(ICP Teacher) Mr. Maas: "My first thought is, 'Oh no! Winter is coming, but it is pretty.'"
(Senior) Kevin Zabala: "I usually try to think of warm places, like Mexico."
(Senior) Cassie Pettiner: "No! I don't want it."
Mrs. Bradshaw: "Peace."
(Senior) Carly
Restler: "Yuck, winter."
(Senior) Blake Denham: "Christmas!"
(Junior) Liliana Martinez: "Cold."
Ms. Lawton: "I think it's beautiful. It makes me happy."  
Sra. Hollingsworth: "I hope I don't fall and break a hip."
(Freshman) Noah RedElk: "Christmas is close!"
(Junior) Blake Carroll: "White."
(Freshman) Cynthia Rossi: "How long until I can go snowmobiling?"
(Freshman) Evan Fritz: "It's really winter."
(Senior) Adam Rider: "Indifferent."
(Sophomore) Rylee Houston: "How beautiful it is and I hope it's like this for Christmas."
(Sophomore) Jordan Ladd: "Thank gosh."
(Senior) Morgan Fritz: "Hallelujah. I love it! I love it when it starts snowing because that means I get to go play in it."
Mr. Plank: "I'm happy. It's a blanket of snow on the ground."
Mr. Walker: 'Hate cold. Love snow. If we could have snow in 50 degree weather, that'd be awesome."
Mrs. Carpenter: "Making snowmen!"
Mr. Long: "Christmas."
(Senior) Kaitlyn Landis: "Yay!! But that means it's getting colder."
Mrs. Mose: "Quietness."
Mrs. Cotten: "Peaceful. Christmasy. Puts me in the holiday spirit. Beautiful. Clean. Makes me happy. Blankets the earth in a pretty white color. Romantical."
Mr. Gilbert: "It's cold. It's the arrival of winter officially in my mind."
(Junior) Chelsea Zaldivar: "Yay!"
Mrs. Dennison: "Ugh."
What's your first thought when you see the first snow covering the ground?
About the Writer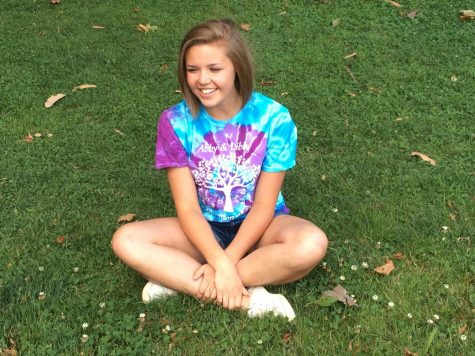 Kristina Powlen, Staff writer
Kristina is a senior at Delphi and it is her first year on the Parnassus staff. She is involved in Interact Club, Student Council, NHS, and Poms. In her...