Mrs. Circle: Delphi's new superintendent
Mrs. Circle has been the  principal of DCHS since 2014 and before that, starting in 2011, she was principal of DCMS. Now, she is transitioning to take on a bigger role. Mrs. Circle has been hired to be the next superintendent of the Delphi Community School Corporation. With that being said, many new changes are going to be made for both the student body and Mrs. Circle. 
However, Mrs. Circle's journey didn't start in our close-knit community. Her journey started in a high school in Ohio. After graduation Mrs. Circle found herself at Purdue majoring in engineering.
The Mrs. Circle that we know now is not an engineer. So, what happened? Her answer was simply this: "It wasn't a fit, and I didn't enjoy it." She went on to say, "I did horrible in calculus." Mrs. Circle actually would go on to fail her first semester of calculus her freshman year of college. She took a hold of this opportunity and taught herself, took good notes, and eventually she was able to help others in the second semester. This simple act of teaching others is what made Mrs. Circle want to be a teacher, and in 1990 she started her first teaching job at Benton Central. 
For the next 21 years Mrs. Circle taught in many different schools. She taught in Georgia, South Carolina, Lafayette Jefferson High School, and Battle Ground Middle School. 
In 2011, she transitioned from teaching to administration when she was hired as principal at Delphi Community Middle School and it was here that she made some of her favorite memories. One of those memories was rather unique. As an incentive, she made a deal that the students who passed all of their classes and had good attendance could tape her to the wall of the middle school lunchroom. She stated, "They used duct tape . . . and they really did it. They taped me to a wall."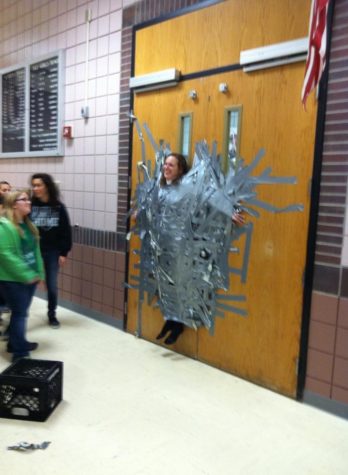 Since being at the high school, her favorite memories have simply been of spending time with us. She stated, "There is no boredom and no day is ever the same." This is because of all of us. We make her day special by talking to her at lunch and keeping this building alive with energy. She came to fully appreciate our presence during all the virtual days last semester saying, "Without you students here, the days are depressing."
As for Mrs. Circle's favorite accomplishment, it is the rise in graduation rates. That does not involve just Mrs. Circle, it is all of us—the student body, the teachers and other faculty members, we have all taken the initiative to be better. As Mrs. Circle stated, "Nothing makes me happier than seeing struggling students finally walk across the stage."
Mrs. Circle hopes that our improvement as a whole doesn't end there though. After becoming superintendent she wants to have a more cohesive K-12 and she wants to see us more prepared for college and careers. What does this mean to the everyday student? A more cohesive K-12 means that we are not going to have gaps in our knowledge and we might not learn the same parts of American History about 10 times. Mrs. Circle wishes for all of us to be well rounded and better prepared for our futures with a more cohesive education. With her new plans as a superintendent, she wishes to hear from the students and the faculty on how to better the school and the education it provides, so don't be afraid to send her an email.
Most of us have not known middle school or high school without Mrs. Circle around each day, and it will be an adjustment not seeing her regularly. She hopes that we welcome the new principal with open arms and that we grow as the changes come our way. However, that does not mean that she is leaving us. We can still say hello at football games, send emails with hellos and goodbyes, and she will still be there to support us. Mrs. Circle, your DCHS family wishes you the best and we look forward to seeing what you have in store for us all.