The inside scoop on secondhand clothing
Secondhand clothing has fashion, environmental, and economic advantages. You can find trendy vintage pieces like band shirts, along with limited edition tees, dresses, skirts, etc. You can get big name brands like Gucci, Louis Vuitton, and Chanel all for a more budget-friendly price. The brand is still there, just not the price tag. 
Secondhand items also give you more freedom with personal expression. You have more options in cuts and fashion trends than what you would find in the mall—you get a chance to find out what you like, and what you don't, without the hassle of having to go to five different stores to try on different styles of clothing. 
If that is not enough, you can't forget the global and environmental effect. According to the Washington Post, as of 2017 it was estimated that 70 pounds of textiles per person per year were thrown into landfills. That is 11.15 millions tons of textiles. On top of that it took 700 gallons of water to make your favorite t-shirt, and those jeans that fit you just right produce 75 lbs of CO2e. CO2e is the CO2 equivalent in greenhouse gases.  One out of two people later will throw those jeans or that favorite t-shirt in the trash when it starts to look rough or just doesn't quite fit right anymore.  
In 2019 thredUP (an online thrift and consignment store) alone saved 449 million pounds of waste from going to the landfills. That is about the equivalent weight of 1 million polar bears. They also saved 11 BkWh of energy with the resale of second clothing, equivalent to 141 years worth of lighting for the Eiffel Tower. This is only one online thrift and consignment store; imagine what we could do if everyone bought one piece of secondhand clothing. Well, we don't have to imagine, thredUP did the math for us. We would save 25 billion gallons of water, 5.7 billion pounds of CO2e, 449 million pounds of waste. For perspective, that water is worth 1.25 billion showers, that oxygen that is no longer there would give us the equivalent of planting 66 million trees, and last but not least, the amount of waste is worth 18,700 garage trucks full of waste. Imagine what a positive difference we could make by considering secondhand clothing.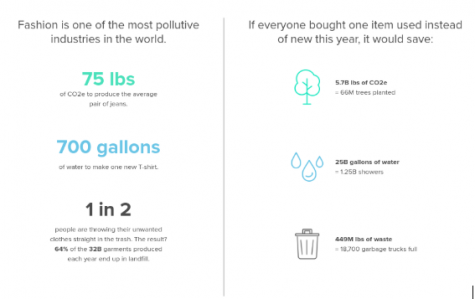 When you donate or recycle secondhand clothes their life does not simply end in the back of someone's closet, or in a textile recycling plant, their life will continue on. Any donated clothes that are not bought are sent to developing countries. Clothes that don't quite pass the bar are turned into those packaged rags we have all seen at Rural King in big plastic bags. The bottom of the barrel is that they have to be thrown away, although that is only a small proportion of textiles. Since most can be turned into rags, and cheap yarn, for blankets and rugs in developing countries.
While global and environmental advantages are great, not everyone is going to find it as fascinating as I do. Secondhand clothing also has great economic advantages as well. You can find name brands at a more affordable price. Since they have already been brought from the original distributor. These same products have a lower price tag  at a second hand distributor, since the product has already been worn it's lost its original value on the consumer. You'll be buying the same high quality pieces without that big hole in your pocket. 
Secondhand clothing is often more present in our daily lives than you would think. Several of the students and faculty here at DCHS feel just as passionately as I do on the subject. Fellow student, sophomore Skyler Wilkerson, is a big supporter of the economic and style advantages that secondhand offers.  "I do it because it has cheap prices, and it's kind of hard to find sizes I wear too. I just love how the style is different. You can find all new styles and name brands. It's definitely worth the hunt," said Skyler. Faculty member and lover of secondhand clothing, Mrs. Kinzie, stated, "I take a lot of my clothes and sell them at Twice as Nice; although sometimes I take my clothes to Goodwill. If I have a nice, big pile I can make 100 dollars; although I tend to keep it as store credit so I can buy more later on. Oh, you can't forget about garage sales though." Mrs. Kinzie and Skyler both have very different ways of shopping secondhand and contributing to it, but they both have found styles and prices they love. 
Sometimes you pick second hand because it is cheaper, other times because it is better for the environment. All around secondhand clothes and resale shops have something for everyone; from the hippy in you, to the penny pincher that we can be. So I challenge you to go to a thrift or consignment shop and see if you can find some jaw dropping prices and pieces that I'm sure you'll love. 
About the Contributor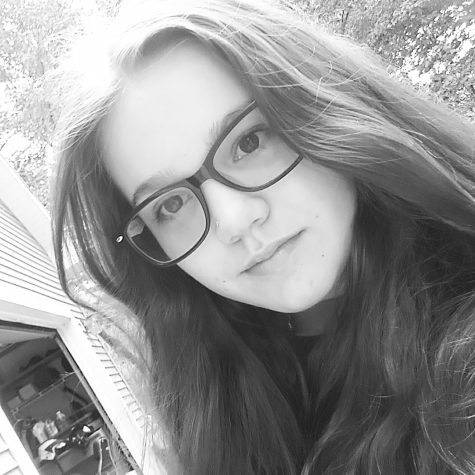 Ava Charnley, staff writer
Ava is a junior at Delphi Community High School and is in her second year of Parnassus. She is a member of the tennis and golf team, as well as the DCHS...