Movies to keep an eye out for in 2018
Hang on for a minute...we're trying to find some more stories you might like.
2017 was a great year for movies, and 2018 is looking to be even better. With stellar releases planned such as Incredibles 2 and Black Panther, we can hardly wait for these flicks. Keep your eyes peeled for these sure-to-be-great movies. (If you want to see the trailers, just click on the title!)
Note: These plots, trailers, and dates are as of January 2018. New movies not featured on this list may start production, and/or dates may be moved forward or back.
January:
Forever my Girl (Jan. 19)
Country music superstar Liam left his bride Josie at the altar to pursue fame and fortune. However, even though he left her, Liam never forgot his roots and never truly got over Josie. Now, he has to grapple with the consequences of his former choices.
12 Strong (Jan. 19)
Captain Mitch Nelson (Chris Hemsworth) leads the US Special Forces on a dangerous mission on September 11. The soldiers create a partnership with the Northern Alliance to help take down the Taliban and its Al-Qaeda allies. They were outgunned and outnumbered, but Nelson and his forces fight through the overwhelming odds against a brutal enemy.
Maze Runner: The Death Cure (Jan. 26)
In the third and final installment of the Maze Runner trilogy, Thomas and his fellow escaped Gladers must break into a WCKD-controlled labyrinth to save their friends. However, WCKD is on their trail because they believe that the Gladers hold the cure for "The Flare." Whoever makes it out of the labyrinth alive will receive the answers to the questions they have been asking.
Also be sure to watch The Commuter (Jan. 12) and Paddington 2 (Jan. 12).
February:
Peter Rabbit (Feb. 9)
Peter Rabbit and his friends are living the perfect life. That is, until a new neighbor named Mr. McGregor moves next door. Mr. McGregor hates Peter and his friends, and immediately puts restrictions on what they can do. However, he has a crush on the animal lover next door. Peter doesn't like that, and the two start an all out feud over her.
Black Panther (Feb. 16)
After the events of Captain America's Civil War, King T'Challa returns home to his African nation of Wakanda to serve as his country's new leader. However, two enemies are threatening to destroy Wakanda, so Black Panther, a CIA agent, and Wakandan special forces team up to prevent a new world war..
Every Day (Feb. 23)
It seems like a classic love story, but it's not. Rhiannon falls in love with a mysterious spirit who goes by A. A wakes up in the body of a different person each day. Every day, Rhiannon and A try to find each other, not knowing what each day will bring. Soon, the difficulty of loving someone who is a different person each day begins one of the hardest decisions Rhiannon and A will ever have to make.
Also be sure to watch The 15:17 to Paris (Feb. 9)
March:
Red Sparrow (Mar. 2)
Dominika Egorova was an amazing ballerina, but when she suffered a bad injury that ruined her career she was sent off to Sparrow School. Sparrow School is a secret intelligence service that trains extraordinary young people to use their minds and bodies as weapons. After completing the harsh training process Dominika becomes the most dangerous Sparrow.
A Wrinkle in Time (Mar. 9)
The book that was required reading in middle school will have a required movie soon to come with it. Meg Murray's father disappeared five years ago when he discovered a new planet and used an untested device to travel there. Now, instructed by three "star travelers," Meg, her brother Charles Wallace, and her classmate Calvin embark on an adventure to rescue her father.
Ready Player One (Mar. 30)
In 2045, the only thing stopping the world from falling into chaos is a virtual reality universe called the OASIS. When the creator, James Halliday dies, he leaves a hidden Easter Egg, and whoever finds it will gain Halliday's gigantic fortune, as well as control of the OASIS. Wade Watts, a teenager from Ohio, joins the search to try and discover the the Easter Egg, along with his friends. However, the competition is big, with the corporate giant Innovative Online Industries also joining the chase to try and take over the OASIS for themselves.
April:
Rampage (Apr. 20)
Dwayne Johnson  stars in the new movie that is a modern, scientific take on King Kong. Primatologist Davis Okoye has cared for George, an extremely intelligent gorilla, since birth. But when a genetic experiment goes awry, and George, a wolf, and a reptile grow to monstrous sizes, the government tries to takes over. Soon, the giant beasts start to destroy Chicago, and Okoye teams up with a genetic engineer and the army to secure the antidote and prevent an international meltdown.
Overboard (Apr. 20)
In this romantic comedy, a rich and spoiled player from a Mexican family falls overboard his yacht and gets amnesia. After waking up in the hospital, he finds that one person has come to claim him—his former cleaning lady, Kate, who he treated poorly in the past. Kate convinces him that she is his wife, and the hilarities ensue.
May:
Avengers: Infinity War (May 4)
The entire Avengers team joins back up for a new battle with a new villain. The evil Thanos strives to collect all six of the Infinity stones. With the artifacts, Thanos plans to force his awful will on all of reality, which leaves the fate of Earth and all of existence in uncertainty.
Deadpool 2 (May 18)
Wade Wilson, Deadpool, is back, and after nearly dying during a bovine accident, Wade takes up occupation as cafeteria chef. However, Wade's true dream is to become Mayberry's hottest bartender. Wade battles ninjas, the yakuza, and sexually aggressive canines, all while traveling the world to find the true meaning of family, friendship, and flavor. (Yeah, just joking! That's just 21st Century's sarcastic synopsis that they released, true to Deadpool himself. We actually have no idea what the movie is about. No, we aren't kidding, look it up.)
Solo: A Star Wars Story (May 25)
A Star Wars story that is all about the early life adventures of Han Solo, Chewbacca, and Lando Calrissian. We're not sure what will happen without the iconic Harrison Ford, but we hope that Alden Ehrenreich will make his mark.
June:
Ocean's Eight (June 8)
Debbie Ocean, a criminal fresh out of jail, and seven other female thieves, try to pull off the heist of the century at the annual Met Gala in New York. A necklace worth more than $150 million is calling out their names.
Incredibles 2 (June 15)
The moment everyone has been waiting for is finally here: the sequel to the hit Pixar movie, The Incredibles. Incredibles 2 flips the scales with Elastigirl, better known as Mrs. Incredible, going out to try and save the day, while Bob Parr stays home to face one of his greatest challenges—taking care of his three kids, untrained in their super powers.
Jurassic World: Fallen Kingdom (June 22)
Four years after the catastrophe of Jurassic World, Owen and Claire head back to the island. Their mission is to save the remaining dinosaurs from a volcano that is about to explode. However, they didn't account for the new breeds of gigantic dinos that have appeared, all while finding a plot that could jeopardize the entire planet.
July:
Ant Man and the Wasp (July 6)
After Cap's Civil War, Scott Lawson, Ant Man, returns home to try and balance life as a father and also as his alter ego. However, he is soon presented with a new mission that requires him to team up with Hope van Dyne, now the Wasp. Fighting alongside each other, they hope to find answers from their past.
Hotel Transylvania 3: Summer Vacation (July 13)
Hotel Transylvania is back, but this time, the monsters end up taking a nice cruise so that Drac can take a break from providing everyone else's vacation at the hotel. The gang partakes in shipboard fun from monster volleyball to exotic excursions. However, when Drac falls for the captain of the ship, Ericka, everything turns into a nightmare. Ericka hides a dangerous secret that could destroy all of monsterkind.
Also be sure to watch Mission Impossible 6 (July 27)
August/September:
August and September are, as usual, dead months for the box office.
October:
Venom (Oct. 5)
With very little to go off of, we do know that this is one of the first movies that focuses on a Marvel villain instead of a superhero. (Or, depending on the way the writers spin it, Venom could be an anti-hero.) We know that Eddie Brock, a journalist, comes into contact with the Venom symbiote, transforming him into his evil alter ego Venom. Other than that, we can't know anything more until later in the year.
November:
The Nutcracker and the Four Realms (Nov. 2)
Clara's true wish this Christmas is for a key. But not just any key—this key would open up a box that holds a priceless gift from her deceased mother. At her godfather's holiday party though, she is given a golden thread. The thread leads her to the key, but then the key disappears into another parallel world. There, Clara meets a soldier named Phillip and the rulers of three realms. Clara and Phillip must brave the dangerous fourth realm and the tyrannical ruler to finally get the coveted key.
Dr. Seuss' How the Grinch Stole Christmas (Nov. 9)
Illumination Entertainment tries their hand at the Christmas movie favorite. The evil Grinch hatches a scheme to ruin the village of Whoville's annual holiday celebration. We hope that this movie can be as great as Illumination's recreation of The Lorax, but we know that Jim Carrey will be hard to top.
Fantastic Beasts 2: The Crimes of Grindelwald (Nov. 16)
Following the events of the first movie, Grindelwald (Johnny Depp) escapes from custody and sets about gathering followers. However, Grindelwald's true motives are to create an order of pure-blood wizard that would rule over all non-magical beings. Albus Dumbledore recruits his former student, Newt Scamander, to help thwart Grindelwald's plan. However, both are unaware of the dangers that lie ahead. As the wizarding world grows more and more divided, lines are drawn as loyalties and love are tested.
Ralph Breaks the Internet (Nov. 21)
Ralph and Vanellope are on an adventure inside the internet to find a part to fix Sugar Rush. However, the culture of the internet world is much different than the arcade world that Ralph is used to. Along the way, Ralph and Vanellope will meet Disney princesses and Star Wars characters.
December:
Aquaman (Dec. 21)
After the events of Justice League, Aquaman, the reluctant leader of Atlantis, has to balance two forces: the surface dwellers who keep on polluting the globe, and his own people, who want to invade the surface. However, while balancing the two, he must also deal with enemies from within his kingdom.
Mary Poppins Returns (Dec. 25)
During the depression era in London, a now-grown Jane and Michael Banks, along with Michael's three children, are visited by Mary Poppins. Through Mary's unique skills and the help of Jack, the street lamplighter, she shows the Bank family the joy and wonder that was missing from their lives. We aren't sure how this new movie will fare without the wonderfulness of the original actors, but we're still excited to see it.
So there you have it! Some of what looks to be 2018's greatest movies so far. We can't wait to see them. Whether you watch them at the theaters, or if you wait till they come out on Redbox or your Public Library, be sure to catch at least a couple of these films.
About the Writers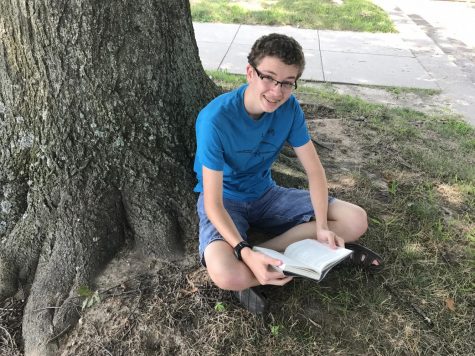 Jordan Ladd, editor
Jordan is a junior at Delphi, and this is his second year writing for Parnassus. He is involved in Interact, SADD, is a HOBY alumni, and swims on the swim...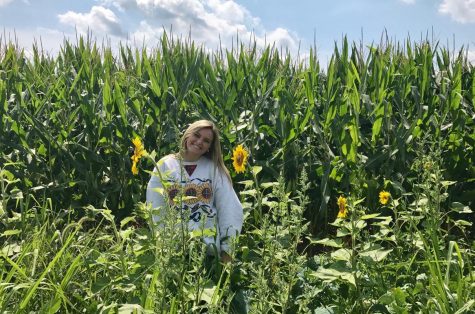 Holly Cosgray, Staff writer
Holly will be a senior at Delphi and in her first year on the Parnassus staff. She is also involved in Interact, Spanish Club, NHS, Student Council and...