FFA community garden still flourishing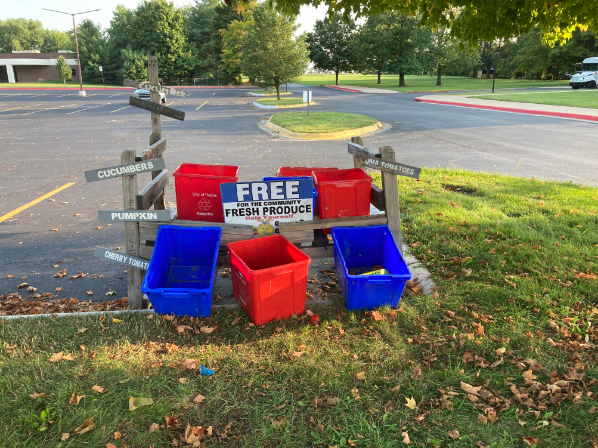 The Delphi Community High School FFA chapter is well known for its community service, and one of their major services each year is planting and harvesting a community garden. Planning for the garden began in 2017, and it has produced plentiful harvests for 5 years now.
The FFA garden grows zucchini, yellow squash, cucumbers, green peppers, cantaloupe, watermelon, and an assortment of pumpkins. Each year's harvest has brought in more than 1600 pounds of fruits and vegetables. Mr. Plank, FFA faculty adviser, said, "Zucchini has been the largest producer every year. During July and August, the zucchini generates 100 pounds or more per week."
2018 – 1771 lbs
2019 – 1708 lbs
2020 – 2328 lbs
2021 – 1605 lbs
2022 – 1770+ lbs
Total amount of produce brought in by the garden
In the spring when it is planting time, Mr. Plank's 8th grade agriculture classes and his high school landscaping class help plant the garden. Over the summer, the FFA members help Mr. Plank takes care of the garden, earning them hours to put toward Supervised Agricultural Experience (SAE). During harvest season in the fall, the landscaping class takes care of the garden.
The garden was made possible by the generosity of the Delphi United Methodist Church and other business sponsors. The church gave the FFA a quarter acre of their land to plant the garden. Land O'Lakes and Winfield Solutions, business sponsors, donate $500 toward the project each spring and fall with the understanding that all produce will be weighed, tracked, and donated.
All produce that is harvested is put in the free produce stand by the corporation office. In prior years the produce was taken to the Flora and Delphi food pantries, but it was later decided that the preferred method was for the FFA to have their own free produce stand.
Does Mr. Plank think the garden will keep flourishing? "Absolutely! We have been gaining community support while also improving our production practices, and that combination has us very motivated to maximize our production of the land," said Mr. Plank.