The power of stories
Hang on for a minute...we're trying to find some more stories you might like.
"Once upon a time," a phrase that has introduced an abundance of fantasy stories over the past few centuries, ranging from adventure and danger, to romance and tragedy, to eerie and ghostly. With Halloween close at hand, it is the time for spooky, flashlight stories being told by a nestled campfire in the nippy and crisp autumn nights, with the scent of drying, dying leaves in the air. Stories, especially during this time of the year, have an effect on our mind and emotions, making us feel odd, strange, creeped-out, or making our  "skin crawl." Stories have a certain essence to them, a trait, or power, behind them that makes the very foundations of our primordial souls quake.
Yet how do stories, from the most elaborate and archetypal to the simplest and elementary, have this effect on individuals? The answer is a complex one, with the majority of stories connecting to and reaching for your deepest instincts; they're wringing out the core statutes of human nature.
For instance, stories of fantasy and make-believe have the spirits of awe, wonderment, and unbelieveableness. The authors of such spectacular worlds and adventures, balancing on their wheels of storytelling, amaze us by introducing concepts, creatures, plants, foods, environments and characters that we have never experienced or seen before. Utilizing their skills in free, independent thought and by tapping into the subconscious human desire for creation, these authors weave their own, entirely unique worlds out of the strings of their imaginations. Doing so, they scour and seek the element of human nature inside all of us that is curiosity, our insatiable interest and  search into the unknown.
The hair-raising campfire stories of Halloween also have a subconscious effect on us, but one of entirely different proportions. Historic tales such as The Legend of Sleepy Hollow, or even the stereotypical "creaking of the floorboards" stories that make their rounds every year, all attempt to frighten and make your blood run cold. Stories of shadows in the doorway, screams in the middle of the night, or waking up in a cold sweat, panicking, make any individual fall into a state of unease or terror.
All in all, stories are the best ways and methods to express our ideas, to persuade those around us, to document history, to conduct commentary on current and past events, and to weave the tapestry of humanity. They expose the hidden values and emotions of human nature, forcing us to think for ourselves and to formulate our own ideas. They can instill terror, happiness, tragedy, humility, or even love inside our beings.
About the Writer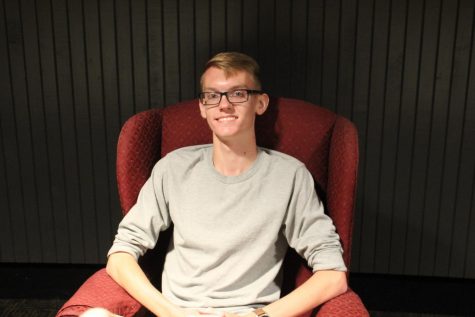 Nickolas Roberson, columnist
Nick is a junior at Delphi and this is his first year in Parnassus. He runs varsity cross country and track and field. He is also a member of Student Council,...