Senior spotlight: Alayna Wickett
Hang on for a minute...we're trying to find some more stories you might like.
Have you ever met a Minnesotan before? Well, you're about to meet one.
This senior spotlight is directed towards someone who is kind, caring, and wonderful in many ways. Alayna Wickett is a new student at Delphi and she absolutely LOVES it here. In a series of unfortunate events, Alayna has been through a lot in her life. She was adopted at the age of one and her dad passed away when she was 14. These events have built the person she is today.
Alayna is one of the easiest people to talk to. If you pass her in the hall or talk to her in class, she would be willing to talk. So, let's get to know this fellow senior:
What is your favorite class?
My favorite class is English. Mrs. Tonsoni is, by far, my favorite teacher.
Who are your closest friends?
Hope Bowman(junior), Savannah Deel(senior), and Destini Gunter(senior)
What is your favorite movie and why?
The Notebook because I love love stories. I'm a hopeless romantic.
What is the funniest joke you know by heart?
Myself…
What do you do in your free-time?
In my free-time, I work at Subway and I tend to sleep a lot.
Tell us a fun fact about you.
A fun fact about me…. Well, I can touch my nose with my tongue.
What is the weirdest thing you have ever eaten?
Alligator is definitely the weirdest thing I have ever eaten.
If you could be an animal, what would it be and why?
I would be a giraffe because they're my favorite animal and they're awkward, just like me.
If you had to change your name, what would your new name be, and why would you choose that name?
I would change my name to Mariah because that was originally supposed to be my name.
About the Writer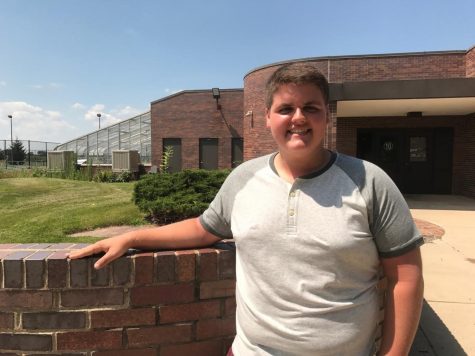 Dacota Shockley, Staff writer
Dacota is a senior at Delphi this year, and this is his first year on the Parnassus staff. He is also involved with Interact, Spanish Club, and Student...