Being adopted and being me
Hang on for a minute...we're trying to find some more stories you might like.
What would you do if you or your girlfriend got pregnant at an early age?  Typically, you have three options: keep the baby and more than likely not give it the best life because you are still growing up yourself, abortion, or you can give that beautiful baby up for adoption in hope of giving him or her a better life. I do not know of many people who are adopted, but there is one person that I do know of and I know her very well. That person is me, Holly Nicole Cosgray.
I have known that I was adopted when I was around five, my parents started telling me so young so I would get use to that word. My parents always wanted to make sure that I knew my birth parents loved me and always told me that I could ask them anything about the whole situation. When I was in elementary and middle school, I was ashamed of being adopted. Everyone around me had parents that they looked like and I was the oddball that looked nothing like my mother or father. Famous country singer Faith Hill said it best when she said, "I was adopted into this incredible home, a loving, positive environment, yet I had the yearning, this kind of darkness that was also inside of me."  You see, in my head when I was younger I believed the reason I was given up for adoption was because my birth parents did not want me. I soon realized that was not the case at all. My birth mother was 14 years old when she got pregnant with me; she had me when she was 15. I am 18 now and can't even imagine having a baby at this age, let alone 15.
When I got to high school, I became more curious as to what my birth parents looked like, whether they were still together, and if so, had they had any more children now. Every single night for about two years I prayed that I would find my birth parents. On August 26, 2016, God answered my prayer. It was a Friday, in my 5th hour math class. The topic of my being adopted was brought up. A boy in my class looked at me and said, "Why would you want to find your birth parents? They did not want you for a reason." At this point I broke down crying. Luckily, I have amazing friends and they looked at me and said, "Holly, don't worry. We are going to help you find your birth parents." Through what seemed like the longest process ever, we finally found them. First, we looked on a website called "White Pages" and we then searched my birth mother's name on Facebook. Savannah Deel then found my birth mother's profile and instantly thought I looked like her. I then found that my birth mother and father eventually got married and now have three sons. The oldest is Trey (12), then there is Lucas (9), and Corbin (3). We have not skipped one day without talking since. My birth parents wanted to name me Hope, because they hoped that in giving me up for adoption I would have a better life. I am so thankful for the plan God had for me because if I wasn't adopted, I would not be the strong independent person that I am today.
My birth mom Ronnessa Harvey stated, "In our case, adoption was a great opportunity to give our baby the best life that she deserved. We knew we would not have been able to keep her at such a young age, and we knew it would be the hardest decision of our lives. To be able to give a family a gift that they always wanted and that they would love makes adoption so amazing." To me, adoption is a beautiful thing and I hope that in hearing my story more people become better educated and consider this option more. The best thing about this whole process is that my parents were supportive in me wanting to find my birth parents; they let it  be my decision whether I wanted to find them or not. Now since I have found them my mom has invited them to my graduation party in the spring, so hopefully that will be the day I finally get to meet my birth parents and birth siblings in person. I look forward to that day.
About the Writer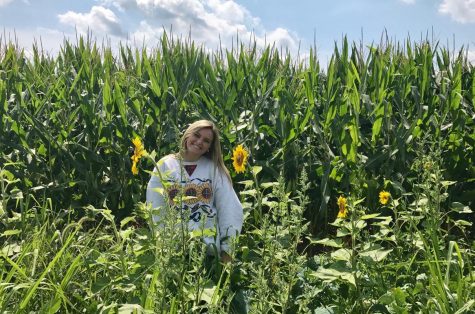 Holly Cosgray, Staff writer
Holly will be a senior at Delphi and in her first year on the Parnassus staff. She is also involved in Interact, Spanish Club, NHS, Student Council and...