Delphi students and staff attend Women's Marches
Hang on for a minute...we're trying to find some more stories you might like.
News of the Women's Marches have dominated television, the internet, and newspapers for the past week. From Washington D.C. to Dublin to Tokyo, an estimated two million people marched to support women's rights. Of those two million people, several of them were Delphi Community High School students, staff, and alumni.
Mrs. Kirkwood, DCHS guidance counselor, attended the Women's March in Washington D.C., where there were an estimated 500,000 people, along with her daughter, senior Mackenzie  Kirkwood, her cousin, and two close friends. Addie Mann, junior, and Mrs. Hartman also attended the Women's March in Washington D.C., while Delphi alumnus Annie Mose marched at the one in Indianapolis, IN.
One thing that all Delphi residents saw, both current and former, were the signs, and they all had a favorite. Addie loved the sign, "When injustice becomes law, rebellion becomes duty." For Mackenzie, the little girl holding the "Future President" sign stood out to her, as well as the sign that read: "Feminism teaches that girls are somebodies instead of somebody's and not just some bodies." Annie, a Star Wars enthusiast as well as a feminist, noticed the signs: "Fear leads to anger, anger leads to hate, hate leads to suffering," a well-known Yoda quote, and "Not because you have a daughter/sister/mother, but because she's a person." Mrs. Kirkwood had four signs, because "it is hard to pick a favorite": "I have better manners than the current government members," "Respect women of color," "Feminism, it's for everyone," and "Admire our daughters' character, not their bodies."
Of course, the people holding the signs were just as important. "There were women marching in hijabs chanting, 'We will overcome' in English and in their own language," Addie recalled. Mrs. Hartman loved the fact that "all of those people were there for a reason. They all had a story." Mrs. Kirkwood was able to have several conversations with fellow marchers, but one person especially stuck out to her. "I met an elderly man from New Jersey. He came with his middle-aged daughters and his granddaughters. His sign said, 'Respect for All Women.' When I asked why he came out, he told me that he has been teaching the children in his life they can do anything they want and he isn't about to have anyone tell them differently."
When asked why each person decided to march in the Women's Marches, everyone answered differently, but their answers meant the same thing. "I was marching for women's rights, LGBT rights, and immigrant rights. Everyone is human; we should all be treated equally no matter what race, color, religion, etc.," Addie said. Mrs. Kirkwood said, "I believe that all people are equal. The rights of one should be the rights of all. It should not matter your gender, your sexuality, your nationality, your religion, etc. Your rights should mirror others. There was so much hate and rudeness in the election. I had to use my voice for good." Annie responded with a passionate speech about the importance of the 14th amendment and how it influenced her choice to march: "I marched to demand respect and opportunity for everyone because we should not have to ratify more laws to protect rights than we already have. The fear-mongering of Donald Trump has pushed people against each other. We need to protect and defend each other, not force the blame on those different than us, Demanding that respect and opportunity also includes protecting education, the environment, reproductive rights, healthcare, and making sure the progress we have made does not get reversed in the face of ignorance-based hate and partisan agendas." As for Mackenzie, her response resonated with this reporter. "I personally was marching for my little sister. I want to show her that what is happening right now is not right, and that you should never be afraid to stand up for what you believe in. I was marching for her because I want better for her. When she gets older, I want things to be better than they are now. I believe she deserves that. I believe every little girl deserves that."
The Women's March meant a lot to a lot of people. However, the counselor of Delphi Community High School summed up the purpose and meaning perfectly. "There aren't really words to explain how much the march affected me," Mrs. Kirkwood said. "I stood with over half a million people in the center of the United States Capitol and watched as people showed true kindness, joy, and watched as hope for humanity sprung back into these people. There was not a 'democrat' versus 'republican' issue. There wasn't a right versus left issue. It was people together saying 'YOU MATTER'."
About the Writer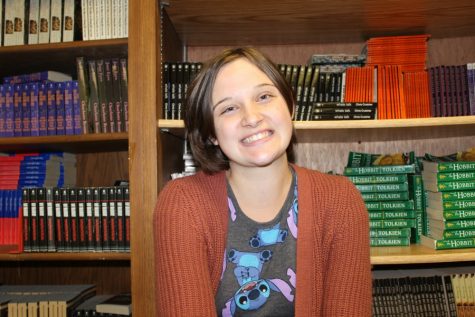 Bella McGill, editor
Bella McGill is a senior at DCHS and in her third year on the Parnassus staff. She is in the plays, French club, 4-H, and band. In her spare time, she...