College football playoff preview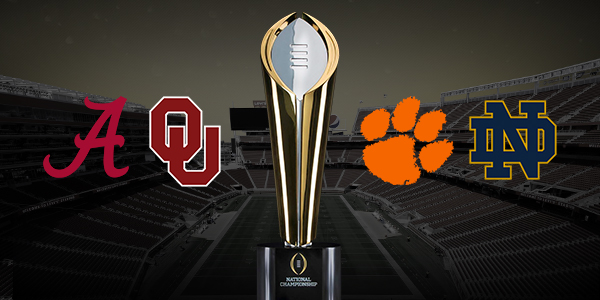 Hang on for a minute...we're trying to find some more stories you might like.
College football's regular season has ended, which means that the bowl season is upon us. This three week stretch includes roughly 80 of the best teams in the country competing in 40 different bowls. More importantly, though, it includes four teams competing for the national championship. In its fifth year, the College Football Playoff has some very familiar names that have dominated football this past decade. However, it also has a newcomer in Notre Dame, who made the playoff for the first time in the playoff era. The first round will include two matchups: #1 Alabama vs. #4 Oklahoma and #2 Clemson vs. #3 Notre Dame, both of which will be played on Dec. 29, 2018. Let's take a look at these teams.
#1 Alabama Crimson Tide (13-0)
This Alabama team has steamrolled every team that they have played this season, from shutting out #3 LSU and #16 Mississippi State in consecutive weeks to putting up 65 points on Arkansas in Week 3. Aside from the SEC Championship game last Saturday, in which Alabama beat #4 Georgia by 7, the closest game that Alabama has played all season was against #22 Texas A&M, where they still held a three possession lead when the clock hit 0:00. The main concern for Alabama fans right now is the health of quarterback Tua Tagovailoa, who has battled minor injuries all season and sustained a sprained ankle on the first offensive series against Georgia. However, they have a terrific backup in Jalen Hurts, who led them to a national championship last year and led the comeback last week against Georgia. It's going to take a team with a great defense and an absolutely dominating offense to knock off this team.
Prediction: Lose to Clemson in the national championship
#2 Clemson Tigers (13-0)
Clemson has continued where it left off last year, letting its tremendous offense take control of the game while its defense toys with its opponents. Nothing speaks better to Clemson's production, though, than its national rankings. Clemson's offense is putting up the third most points and the fifth most yards in the country while its defense allows the fourth least points per game. These stats were put on full display against the two ranked opponents that Clemson has played this year, putting up 41 and 27 against NC State and Boston College, respectively, while limiting both teams to only 7 points. Running back Travis Etienne is also going to be a pain for opposing defenses, as his big play ability forces defenses to stack up against the running game, which opens up the passing attack for quarterback Trevor Lawrence. This duo is going to be tough to beat.
Prediction: Beat Alabama in the national championship
#3 Notre Dame Fighting Irish (12-0)
Notre Dame has had a long road to the playoff…literally. In the final five games of the season, the Irish have travelled over 8000 miles to reach games in San Diego, Chicago, NYC and then back in Los Angeles. Through it all, they have relied on their elite defense, which hasn't allowed  more than 27 points all season, the best among these four teams. Their defense also limited Syracuse to 3 points, a team nearly upset Clemson earlier in the year. Their defense has had to be this dominant, though, as their offense has been inconsistent all season. Before a quarterback switch in Week 4, the Irish managed to put up only 24 points against Ball State and a measly 22 against a 6-6 Vanderbilt team at home. If Notre Dame can find their offensive groove, then they're going to be hard to beat. However, they're going to have to do this against a very talented Clemson team, which is going to be difficult to do.
Prediction: Lose to Clemson in the semifinals
#4 Oklahoma Sooners (12-1)
Kyler. Murray.The #9 pick in the MLB draft who decided to put his baseball career on hold to succeed Heisman winner, #1 overall NFL pick Baker Mayfield at quarterback. Not only has he lived up to expectations, he has crushed them, leading the Sooner offense to the top of just about every offensive stat board there is, including an astonishing 49.5 points per game and 578 yards per game. While these two stats make you wonder why Oklahoma isn't #1, their defense will make you question how this team even became bowl eligible. This defense surrendered 40 or more points in four straight weeks, including to a Kansas offense that scored only 7 against Baylor, who went 1-11 last year. Oklahoma's offensive and defensive squads are such polar opposites that they actually set a record: the first top 25 team to win four consecutive games after allowing at least 40 points in each game. So far, Oklahoma has proved that no matter how bad its defense is, its offense can compensate. However, Alabama isn't Kansas. Alabama isn't Baylor. Alabama is the defending national champions that haven't lost in over a year. So, we will see if Kyler Murray and the Oklahoma offense can keep up in this game that is sure to be a shootout.
Prediction: Lose to Alabama in the semifinals
These teams have looked dominant all year. However, it will be their different areas of dominance that will make the difference this year's playoff. The semifinal round will take place at 4 pm and 8 pm on Dec. 29. The winners will face off at 8 pm on Jan. 7 in Santa Clara, CA.
About the Writer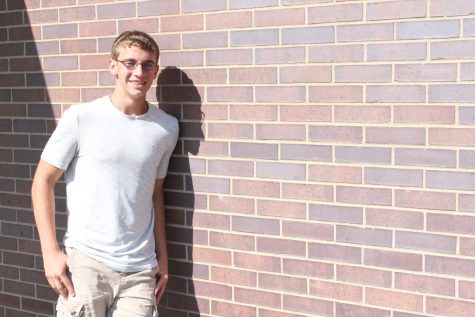 Joe Perry, editor/sports writer
Joe is a senior at Delphi and is in his third year with Parnassus. He plays tennis, cross country, and track, and he is also involved with Bracketology...