Coach Strasser receives Colts' Coach of the Week award
Hang on for a minute...we're trying to find some more stories you might like.
Delphi head football coach Josh Strasser was awarded with the Indianapolis Colts' Coach of the Week for Week 7 of the high school football season. He was nominated by his fellow coaches in the area, and chosen by the Indiana Football Coaches Association (IFCA) among ten candidates. He was primarily chosen due to the strides that the program has taken since Coach Strasser took it over in 2012, going from a 1-10 record in 2011 under Coach Jaime Sailors to being undefeated in the regular season in 2018. The award was signed by NFL Commissioner Roger Goodell.
The award was presented to Coach Strasser by 14 year NFL veteran Mike Prior. Prior was drafted in the 7th round of the 1985 draft by the Tampa Bay Buccaneers, and went on to win Super Bowl XXXI with the Green Bay Packers, where he got an interception off of Pro Bowl quarterback Drew Bledsoe. Prior gave a speech to the football team as well, focusing on how dedication can take you a long way in life, as Prior didn't start in high school until he was a senior but he went all the way to the NFL.
Delphi's athletic department also received a $2,000 donation from the Colts organization. According to athletic director Kevin Sims, the money will go back into the football program. The money will be spent to memorialize longtime coach Tony Berto's successes at Delphi. Berto coached the football team to three consecutive undefeated seasons from 1964 to 1966. The athletic department will be purchasing a few football lockers from Purdue's facilities and they will be filled with memorabilia that is being provided by Coach Berto's family. The location of these are not yet decided, but, according to Mr. Sims: "They will be put somewhere that they are seen a lot." The way this season is going, memorabilia from this year's season may be going in there as well.
The Oracle football team will travel to Rensselaer on Friday, Oct. 19 to try to further their undefeated streak. If they beat Rensselaer, then they will tie the Oracles record for wins in a season. The game starts at 7:30 EDT.
About the Writer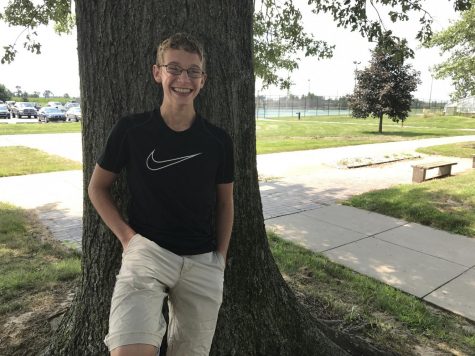 Joe Perry, sports writer
Joe is a junior at Delphi and is in his second year with Parnassus. He plays tennis, cross country, and track, and he is also involved with Bracketology...