Oracle football racking up the wins
Hang on for a minute...we're trying to find some more stories you might like.
The biggest headline in Delphi athletics this fall is the almost unprecedented success of the football team. So what is the hype about this group of young men? Delphi has increased their win total to eight, while keeping a goose egg in the loss column. The team has produced results to go along with the talent they possess. In fact, in five out of their eight games, the Oracles have blown out their opponents. They are not just winning, they are winning in style.
Let's look at this win streak from an analytical standpoint. The Oracles are averaging two more passing touchdowns per game compared to last season. Furthermore, Delphi is also averaging almost 100 more passing yards. Also, the pass completion percentage is up to .742 from .538. This improvement in the air paired with a solid run game creates a lethal combination. The boys played eleven games last year, and to this point in 2018, they have played eight games. Despite three fewer games played, they have 41 touchdowns which is five more from the 2017 campaign. This highly productive offense makes them an electrifying and engaging team to watch.
Jayden McClain, junior running back, said, "The atmosphere that has been created is a key factor. Whether it is in the practices or in the games, we as a team have a fast-paced and focused setting. We play with speed and intensity leaving everything we have on the field so that at the end of the day there is no question on our work ethic."
Senior quarterback Seth Waters has been thriving despite an injury to his throwing hand. Coach Mroczkiewicz praised the quarterback: "Seth is a tireless competitor. I was not surprised that he chose to play through the injury because of how fiercely he has prepared for this season. As his positional coach, I get to experience his dedication firsthand, and one would have difficulty finding a player more locked in than Seth is."
A further accomplishment of the season was bringing back the Bacon Bowl skillet to Delphi. The Oracles did so by beating east side rival Carroll 47-14. They also routed a talented North Judson team 21-20 for an early season dog fight. After that, they beat the best two teams on their schedule, Tri-County and North Newton. Delphi was not intimidated by North Newton's size and pulled out a 41-34 win. Lastly, against a Tri-County team that boasts two of the top rushers in state, the Oracles prevailed with a score of 26-19 in a nailbiter. For the last game of their regular season, Delphi faces a struggling Taylor team who has only had two wins.
The team is under the direction of Josh Strasser, head coach; John Henderson, defensive coordinator; Doug Nelson, special teams coordinator; Jacob Mroczkiewicz, offensive coordinator; Kameron Yates, assistant coach; and Taylor Plank, linebacker coach.
With the combination of talented athletes and an experienced and dedicated coaching staff, the Oracles have a solid chance of staying undefeated through the rest of the season. Delphi is set to face Rensselaer in sectionals Oct. 19 at 7:00 P.M.
About the Writer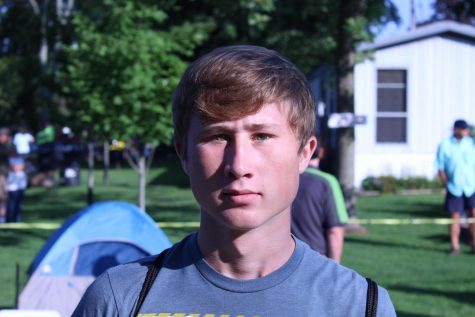 Elijah Hudson, sports writer
Elijah is in his second year on Parnassus staff and is loving every second he can be around his colleagues. He has finally reached the upperclassmen threshold...