Mr. Burpo inducted into Indiana Football Hall of Fame
Hang on for a minute...we're trying to find some more stories you might like.
Indiana is known for being a basketball state, but few know that it is one of only a couple of states to have a Football Hall of Fame. In the 43 years of the Indiana Football Hall of Fame's famed history in downtown Richmond, only one Delphi legend (Tony Berto) has been inducted into the storied legacy. This summer on June 11, there will be a second. Vince Burpo will be one of three coaches to be inducted. After a spectacular 25 year career, Burpo recorded a 112-83 record, winning five sectionals, two regionals, and seven conference titles at the three different schools where he coached (Frankfort, Frontier, Delphi), having back to back titles at Delphi. On top of all of these honors, he has coached in the indiana All-Star game, run the the state clinic for 10 years, and held a leadership position for the Indiana Football Coaches Association.
His most recent honor left him stunned.  "I was surprised. This is something I've never thought about. This award isn't about me. I goes back to every player that I've ever coached. They all had a little piece in this." Over his 25 years, Burpo has had 14 assistant coaches become head coaches. "No one man could do this; it's impossible. I was fortunate to have great people here to help along the way, not only good players, but good coaches as well," Burpo said.
Coach Burpo was overwhelmed with emotion when he was first contacted and had to call the governing body to make sure they had the right person. And, of course, they did. DCHS athletic director Kevin Sims knows Burpo's honor is well-deserved: "No one deserves induction into the Hall of Fame more than Coach Burpo. His teams were always well disciplined and hardworking; they won with class and were always respectful in defeat. He found success at each and every stop along his coaching journey."
About the Writer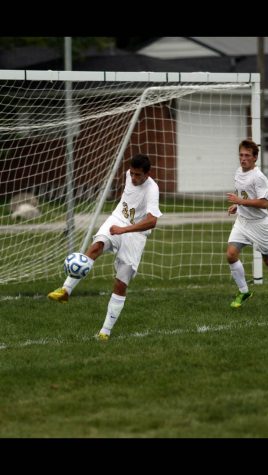 Daniel Jakes, sports writer
Daniel Jakes is a senior at Delphi. He is involved in football, soccer, and basketball. This is his first year on the Parnassus staff.