Delphi swimmers go hard this year
Hang on for a minute...we're trying to find some more stories you might like.
We have heard talk about all of the athletes this year that are doing extremely well in their sports. But one of the most underrated sports with some of the best athletes is undoubtedly swimming. Swimmers walk through the school only identified by their hair looking green and their bodies smelling like chlorine. You never hear people talking about how great a swimmer is doing, or how hard they're working this year; however, that is exactly what many swimmers have been doing this year.
Everyone has been working extremely hard this year, swimming an average of eight thousand yards a practice, but there are even those who go above and beyond that. A few swimmers have been going to morning practices as well as afternoon, nearly doubling the amount of yards they swim. These athletes went to almost all of the pre-season conditioning practices as well, and these are the few who will truly excel this year.
The foremost among them is Cameron Burns, junior. He went to almost every conditioning practice the team had and still goes to the optional morning practices. He wakes up at 5:30 and jumps into a freezing cold pool and swims nearly a full practice. He is doing nearly double the amount of yards the other swimmers do.
Junior Emma Carpenter is another notable swimmer this year. She too has been going to many of the morning practices along with senior Taylor Hudelson, and freshman Shelby Hudelson. They've all been working incredibly hard this year, and it's not even halfway through the season.
Coach Sean Barry said, "I think the team's motivation this year is going to be the number one thing that drives them to success."
Swimming is arguably one of the hardest sports out there, and the fact that these athletes are doing more than what they are required is truly exceptional. Waking up before dawn to jump into a freezing cold pool? That's dedication.
About the Writer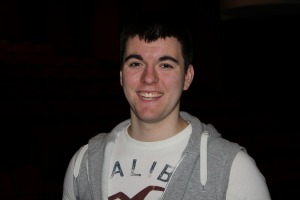 Daniel Martin, staff writer
Daniel Benjamin Martin is a senior and in his second year on the Parnassus staff. He is in swimming, drama productions, track, and Entertainers. His hobbies...