A look at the role of athletic director
Hang on for a minute...we're trying to find some more stories you might like.
What is an athletic director? The smart alec answer, of course, is "the director of athletics." Yeah, sure, but just what does that guy do all day? Besides call up his athletic director buddies and watch the weather channel, here's a look at what Delphi's athletic director Kevin Sims does, and how it affects Delphi's sports.
Mr. Sims' job can be summed up into four main duties. He schedules games, schedules officials for those games, helps and communicates with coaches and manages budgets for the different sports.
The first of these duties is quite simple. Mr. Sims calls his fellow athletic directors and schedules games for the various sports. However, the tricky part is when weather interferes. Excessive precipitation, such as rain in the fall and spring as well as snow in the winter, and extreme temperatures makes it hard for teams to travel and play. So, this sometimes forces the games to be postponed or even cancelled altogether. This all depends on the communication between Mr. Sims and his counterpart at the other school, as well as how late it is in the season. A reschedule is more probable to happen early in the season than games that need rescheduled later in the year.
Scheduling officials is also a big part of the job. There are only so many officials in the area, and if they are all booked then games sometimes have to be postponed. This is a rarity though.  Games and meets must have officials, and it's the job of the athletic director to schedule them and make sure that they get paid.
Communicating with athletes and coaches is arguably the most important part of Mr. Sims' job. After all, how else would teams know that their game is postponed a week? Also, Mr. Sims directs college scouts to the appropriate varsity coaches. Due to his lesser known position as assistant principal, he provides input about the associated athlete in terms of character as well as information on their academic standing.
Another major aspect of the job is finances. As the athletic director, he handles the finances for the athletic department. These funds are split into four different accounts. One is for ticket revenue, which is mainly garnered from football and basketball games. A second is for revenue from the spirit store, which is open during basketball games. A third is for concession stand revenue. The fourth account is for expenses. These expenses include uniforms, equipment, officials, and any other necessity that is required for Delphi's various sports to run smoothly. Mr. Sims is notified of these different needs at the end of the seasons, when coaches take inventory and tell Mr. Sims what they will need for the next season. This gives Mr. Sims a year to figure out how to find the funds to purchase this equipment. However, sometimes coaches aren't just handed these funds. For example, the funds for the basketball teams' shooting machine was completely paid for by both the boys' and girls' teams. Usually coaches are only denied funds, or at least full funding, on big projects that are not necessary.
Odd jobs are also in the job description. Due to the large upkeep necessary to keep Delphi's fields maintained and looking nice, mowing and other work is not uncommon to Mr. Sims. He also has a say in the hiring of coaches. During the hiring period for head varsity coaches, he accepts applications and, with the help of a couple other administrators, narrows it down to one or two to present to the board of directors. As for assistant coaches, he typically allows the head coach to choose the staff, as long as they're reasonable and can pass a background check.
The job of athletic director entails more than just sitting back and scheduling games. Being a planner, an organizer, a communications director, a business manager, and a financial manager‒—as well as improving Delphi's athletic teams‒—are all in the job description.
About the Writer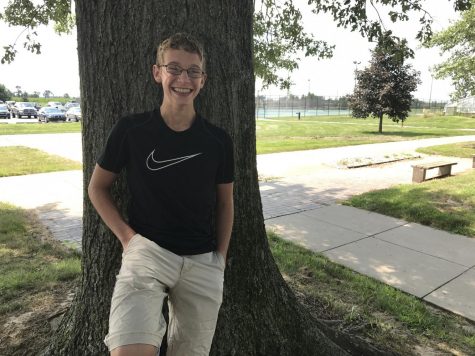 Joe Perry, sports writer
Joe is a junior at Delphi and is in his second year with Parnassus. He plays tennis, cross country, and track, and he is also involved with Bracketology...