Reaffirming the validity of the Second Amendment
Hang on for a minute...we're trying to find some more stories you might like.
"A well regulated Militia, being necessary to the security of a free State, the right of the people to keep and bear Arms, shall not be infringed." These are the words that have sanctified and secured our rights and liberties in the United States of America since the 15th of December, 1791, when the Bill of Rights was ratified. Government recognition of our right to bear arms was a vital step in protecting both our natural and constitutional rights, from the right to freedom of speech to the right of protection from search and seizure. Why is this government recognition important? Why was the second amendment adopted? What is its meaning and purpose? Why is it important in today's society?
During the Constitutional Convention, James Madison, one of the delegates at the convention and the chief recorder of information, proposed the Second Amendment as a way for citizens and ordinary people to own firearms, as well as other weapons, to protect themselves, their family, and their property from tyrannical governments, and as well as a way to empower state militias in response to the autocratic nature of government, specifically the British government. The Founding Fathers, and the people of their generation, experienced large amounts of oppression from the British monarchy, from taxation of goods, restriction of firearm ownership, restriction of religious freedom, banning of freedom of speech and the press, and forced housing of British soldiers in the colonies. That is the original reason why the Second Amendment was created and ratified: so that ordinary individuals would be able to defend themselves from tyranny, crime, and other individuals seeking to harm them.
Why do we need the Second Amendment? Isn't today's society different than what it was 200 years ago? The reason for having the Second Amendment is the same as it was in 1791: to ensure that citizens have the right to protect themselves from government maltreatment and crime. Yes, society has changed tremendously over the course of two centuries. We have a modern police force that protects us from crime, and first-world governments do not seek to establish authoritarian empires and regimes like they did 200 years ago; at least, not on paper. However, police will not always be able to protect you. The average police response time to a crime, without taking into account the different priorities of crime, is seven minutes. Many things can happen in seven minutes: your belongings could be stolen, you or your family mugged on the street, a loved one murdered, etc. The response time of an individual carrying a firearm, assuming the individual is properly following state/community guidelines and regulations, is only a few seconds. Instead of waiting seven minutes for police units to arrive, the individuals are able to protect themselves and their family from whoever, or whatever, is attempting to tread on their natural and constitutional rights.
A prime example of the utilization of the second amendment occured this year in Marshall, Indiana. In the month of April, this small community had experienced a string of burglaries. One day, Carl Huxford and some of his neighbors noticed a suspect with a firearm in his hand attempting to burglarize a neighbor's car. The neighbor whose car was being burglarized decided to "take matters into his own hands" rather than wait for a police unit to respond, and fired shots into the air, scaring the suspect and causing him to flee. Huxford stated, "He was defending his space. I think he did the right thing."
Now, what would happen if the government of the United States of America did not recognize the right of citizens to bear arms? Then the tyrannical nature of government would be able to run wild, like a glutton in an all-you-can-eat buffet. Why? Because they would not have to be concerned with their citizens easily rising up against them; the people can't resist unless they have access to firearms and modern weapons. Government would have the ability to heavily restrict, or outright ban, firearm ownership. Governments today are already attempting to restrict said ownership, beginning with the ban of simple modifications like bump-stocks and then moving on with restricting, and sometimes banning, the sale of certain firearms, such as the AR-15.
For example, the United Kingdom has some of the tightest regulations on firearm ownership in the world, restricting the owning of rifles and shotguns to sport only, along with the complete ban of handguns. The citizens are not allowed to protect themselves with firearms, thus having to rely on police for protection. This has caused a massive increase in overall crime for the United Kingdom, with a three-percent increase in 2015, an eight percent increase in 2016, and a ten percent increase in 2017; an acceleration of the rise of crime is obvious. In 2017 alone, there was an 18 percent increase in overall violent crime, with a 26 percent rise in the homicide rate. Gun crime rose 23 percent to 6,375 offences, and a 20 percent increase in knife crime to 34,704 incidents. Furthermore, the total number of police officers in the United Kingdom has fallen by 20,592 since 2010.
The government of the United Kingdom has also begun restricting the freedom of speech of its citizens, with 3,400 people being arrested in 2017 for "offensive" online comments. Why is the government doing this? Because the natural right of the people to bear arms has been restricted and regulated so extensively in the United Kingdom, that the government does not have to worry about resistance. Without government recognition of this right, our liberties and freedoms are at risk of being attacked. These governments hide their true intentions of tyranny with shrouds of "compassion" and a want to "protect" their citizens from themselves and other individuals, because for some reason, a politician 577 miles away in Washington D.C. should be able to determine how I live my life.
* The Parnassus staff realizes that this is a controversial issue, and some of you may feel differently about this topic. We would love to hear your comments below. We are also hoping to post an article that takes up the opposing side of this issue. If you are interested in being a guest contributor, please talk to any member of the Parnassus staff.
About the Writer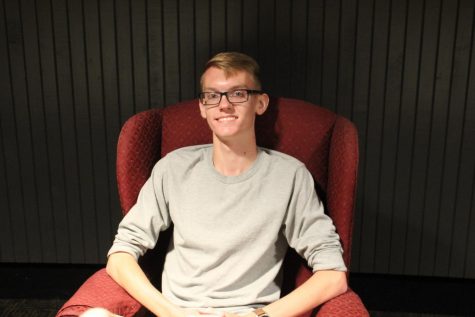 Nickolas Roberson, columnist
Nick is a junior at Delphi and this is his first year in Parnassus. He runs varsity cross country and track and field. He is also a member of Student Council,...