College Football Playoff Predictions
Hang on for a minute...we're trying to find some more stories you might like.
As the college football season winds down, the best football is yet to be played. Championship week is going to play a vital role in who makes it into the College Football Playoffs. Upsets could shock the nation and a playoff contender into a bowl game. Here are my predictions on who will make it into the College Football Playoffs.
My first team into the bracket is Oklahoma. Oklahoma has been great all season long. They have added some impressive wins over quality programs. For the Big-12 championship game, they face Texas Christian University, or TCU. While ranked, TCU was beaten handily by Oklahoma earlier in the season. The lack of defense really helps out Baker Mayfield and his powerful offense. I don't see TCU matching Oklahoma's offensive power in this game, so Oklahoma should be able to move on to the playoffs.
Another team that is in my playoff bracket is Miami. I see Miami ruining Clemson's hopes of getting to their third straight College Football Playoff. When tested this season, the Hurricanes have prospered. This includes blowing out a then-ranked number three Notre Dame. Miami seemed to handle their first loss pretty well, not getting down on one another and trying to get mentally ready for their next game. Clemson is a worthy opponent, but I see Miami coming out of the game with a win.
The next team that is in the College Football Playoffs, is Auburn. A late addition to the race, they deserve to be here. They have topped the number one seeded team in the nation. Their two losses have each come from the hands of worthy opponents. They have already beaten Georgia once, and handily, at that. I expect Georgia to keep this game close but Auburn is going to pull out the win when it comes down to crunch time.
Lastly, I have the Ohio State Buckeyes in their season finale. They are facing an unproven Wisconsin team in the Big 10 championship game. Once Wisconsin is on the rails, they will crash. If Ohio State gets down early, they have the composure to come back and win the game. This game is a chance for the Buckeyes to show their power and crush a decent opponent. That would make the selection committee take a hard look at this squad for the bracket.
Yes, I left out the most highly recognized college football program in the country, Alabama. The Rolling Tide fell to the best team on their schedule, resulting in their not playing for a conference championship game. I think the selection committee will not have mercy on them and will leave them out of the bracket. I also left out Wisconsin, Clemson, and Georgia. Wisconsin would have to prove that they are a great team when playing Ohio State to compete with the talent-ridden Buckeye defense. They haven't proven to anyone that they are anything other than a good team, so they will miss out on the playoffs this year. I left out Georgia because I just don't see them beating Auburn. In the first game, Auburn showed they were ready to compete in the first game they played against each other. Georgia was timid when playing Auburn, and I don't think that will change when they play each other again.
No matter what teams make the College Football Playoffs, there is going to be some good, exciting football games. The playoffs have been a great addition to college football and are sure going to be exciting to watch this year. Make sure to watch the selection show on Dec. 3 to see if my predictions are right.
About the Writer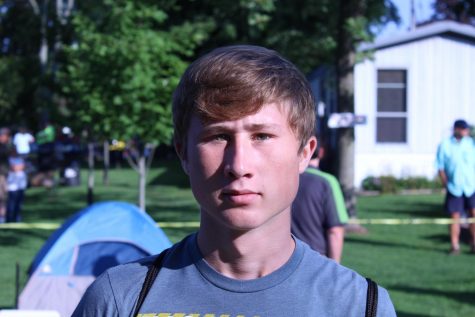 Elijah Hudson, sports writer
Elijah is in his second year on Parnassus staff and is loving every second he can be around his colleagues. He has finally reached the upperclassmen threshold...