Sheriff Leazenby illustrates Carroll County's opioid protocol
Hang on for a minute...we're trying to find some more stories you might like.
After attending a forum covering the opioid crisis across Indiana, hosted by the Delphi Public Library, many questions surfaced surrounding how Carroll County is handling the presence and effects of opioids in the area. Carroll County Sheriff Tobe Leazenby agreed to participate in an interview and provided much insight into the topic.
How has the opioid crisis taken the front stage over previous drugs?
"I hate to burst bubbles around this county but believe it or not we still have issues with meth and spice. The issues we see are coming from other sources outside the county: Lafayette, Logansport. It's not had a huge impact here, but there was a case in which parents overdosed in their car. That was the first real situation in this county. To say we don't have a problem is not what I'm saying; our contact has been very minute."
What steps are being implemented to save lives in Carroll County?
"Within the past three months, we have started to carry Narcan in all county vehicles to revive overdosed persons. I brought that on because the county health department got a grant for free Narcan. The other reason we brought it on was because of fentanyl which can have devastating effects when it comes in contact with someone. [Fentanyl] is another tool to save the lives of the guys who are out there in the EMS."
How has law enforcement been supported by the community in this?
"I've had mixed reactions. One aspect of the community says, "Why are you saving these lives?" The other side is saying, "Thank you for saving my son's life." Maybe this will be the wake-up call from being revived from an overdose. We've had the negative and positive reactions. When we take these positions we take an oath of office. I hold that oath very strong to save and protect lives."
In what areas would you like to see more change with community support?
"Maybe asking for your objectivity or understanding for why we do what we do. That boils down in my mind to educating people in the community about why people are doing this. This goes back to protecting and saving lives. The word that sticks out in my mind is educating. Not necessarily the general public, but those more involved in drugs to keep them out of here."
How do you see yourself and your team impacting the opioid crisis locally and otherwise?
"Even if we turn one person's life around from being involved in opioids or any other drug and get them on the right track, that is our intent. Sending someone through the system is not all that cops do all the time. We also to try to get the individual to take a closer look at themselves and say, "This isn't what I want my life to be." My frustration is the individuals we keep seeing back in the "revolving door plan." We want to avoid that continuous repeating pattern."
As with anything else, the fate of heated topics rests in the hands of citizens. The support that the public chooses to give or revoke will determine the course of action for future decisions regarding the opioid crisis. Sheriff Leazenby said, "Anyone that ever has questions is more than welcome to come contact me at my office. I have experience and resources and I can point them to someone who will have the right answers for them."
Carroll County is proud to continue saving lives in the area and hopes to spread awareness and information to prevent further disciplinary action.
About the Writer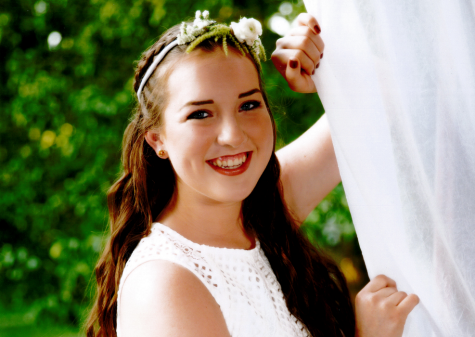 Emily Hudson, Editor
Emily Hudson is a senior at Delphi and is in her second year on the Parnassus staff. Emily performs with the Entertainers and in the spring musicals. In...