How to develop your personal style
Hang on for a minute...we're trying to find some more stories you might like.
Have you looked at those Instagram girls and envied their style? It is no longer out of your reach. Read these steps to figure out how to become fashionable. Remember that fashion has no rules. These are just tips that have helped me and a few others along the way.
      1. Figure out what you want to portray with your clothes.
Clothing is the first thing people notice about you. What do you want to say with your clothes? If you want the world to know you are an angsty teen, then wearing all black with hair covering your face is the way to go. If you want to look like a bubbly, cutesy flower then pastel colors, lots of flower prints and soft lines will achieve this look. Clothing is a way to express yourself. If you want to follow all the trends to a tee, then do just that but you are under no obligation to conform to the appearances of others. Wear what makes you happy!
      2. Research some styles to figure out what you like and dislike.
Do some research to figure out if you are preppy or edgy. There are a lot of ways to start researching, but a simple way to start is by using keywords that you want to express in your clothing. For example, if you want to look effortlessly cute then look it up. The world is at your fingertips.
      3. Make a list of what kind of clothes you need.
A comfy casual person would not need stilettos to complete their outfit. Simply make a list of what kind of items of clothing you would like to own. It is best to stick to basic items when starting to create your personal style. A black tank top can make at least 50 different outfits. Don't forget to include accessories like jewelry, scarves, and hats. A colorful scarf can transform your whole outfit. The  possibilities are endless.
      4. Check your closet.
You never know what you might find. With your new perspective on clothing, you might see that white t-shirt as a diamond in the rough. You might have a shirt given to you by an estranged aunt that now is the best piece of clothing you have. If you have the money go to a second hand store to pick up some great pieces, it's worth your time. Second hand stores provide low costs with high quality pieces of clothing.
      5. Have confidence.
The most important step is confidence. You could be wearing the best outfit ever imagined, but if you don't have confidence it won't be worn to its full potential. Your genius fashion skills are being wasted if you don't have the confidence to wear your clothes. Confidence  is not bragging to everyone how cool your new clothes look. Confidence is the self-assuredness that you look good. Confidence is having your head high, shoulders back, and making eye contact with all who pass by.
These are the five steps to help develop your personal style. These rules have proven helpful to me but fashion has no rules. Fashion is just what makes you feel good. If sweatpants makes you feel confident then by all means wear your sweatpants with pride.
About the Writer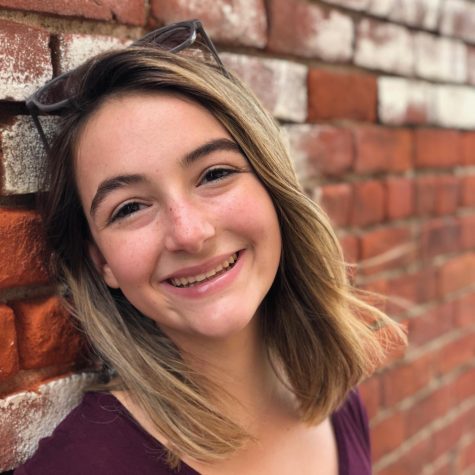 Katlyn Sherinian, staff writer
Katlyn is a sophomore at Delphi. This is her first year in Parnassus. She plays tennis and sings in the Entertainers. In her free time she likes to dance...