DCHS teachers share favorite costumes
Hang on for a minute...we're trying to find some more stories you might like.
Where do ghosts go on a Saturday night? Anywhere they can boo-gie. Everyone's favorite spooky season is just around the corner, Halloween. Halloween is a time of celebration and superstition. Finding the right costume every year is key to getting the biggest amount of candy and possibly your next cavity. Out of curiosity, I reached out to the high school teachers asking them what their favorite costume has been, and these are the responses I got.
Mrs. Kirkwood: "I went as a Siamese twin with my best friend in high school. I liked it because it was a unique costume and guaranteed that we could go trick-or-treating together despite living in different parts of town."
Mrs. Wisinski: "I do not just have one favorite costume, and I do not limit myself to Halloween (Comic Cons). Most of my costumes are from the comic book world. My first costume is Domino, a female assassin who never misses. I have been Wonder Woman, Hel, Harley Quinn, The Baroness, and Poison Ivy, just to name a few."
Mr. Painter: "I can tell you my favorite costume I saw last year was from Paige Hughes here at school on Halloween. She was Jack Skellington from The Nightmare Before Christmas and it was amazing. Paige did all her own make-up in the mirror too. It was incredible. The creepiest costumes I saw last year were when Max Kender and Andrew Schoen both showed up in my room dressed as bananas. I absolutely can't stand bananas and I found their costumes very disturbing."
Mrs. Wagler: "My favorite Halloween costume was when I was a sophomore in college and I was training for the Indy Mini. I was taking kickboxing classes and was RIPPED, so I went as G.I. Jane for Halloween (guns out). My worst Halloween costume was when my mom forgot to get me a costume, so she took a black trash bag, cut holes in it for my head/arms, and sent me out as a bag lady."
Mrs. Brummett: "When I was about seven years old, my mom collected Quaker Oat containers of different sizes from neighbors in Chalmers. She collected enough to cover my whole body. They were wrapped in aluminum foil and my dad used a metal oil funnel for my hat…Guess what I was: The Tin Man from the Wizard of Oz…one of my favorite movies as a child. They had to take me up town to the community costume competition in the back of our pickup truck because I could not sit down…it was painful, but I won first place."
Just want to give a huge thank you to the teachers that shared their favorite costumes. Everyone leave a comment about what you plan on being for Halloween this year. And I leave you with this: What's it like to be kissed by a vampire? It's a pain in the neck.
About the Writer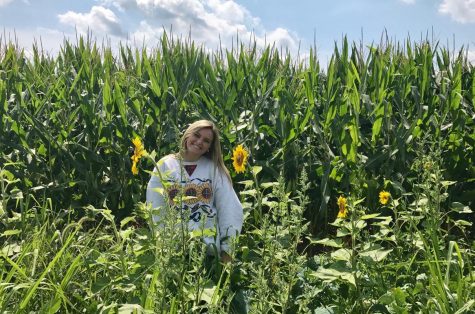 Holly Cosgray, Staff writer
Holly will be a senior at Delphi and in her first year on the Parnassus staff. She is also involved in Interact, Spanish Club, NHS, Student Council and...