Student Shout-out: Kiss, Marry, Kill with fictional characters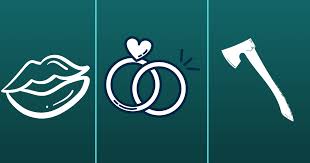 Many of us have fond memories of games we used to play as a child such as Uno, Guess Who, and Kiss, Marry, Kill. So, I decided to ask a few students from DCHS what fictional characters they would kiss, marry, and kill. Their responses were nothing short of amusing as they took me back to inside recess in elementary school. 
Autumn Mauer – freshman 
Kiss – "Honestly that is difficult. Luna Lovegood because she has this fantastically strange personality and I love it. I love it a lot!" 
Marry – "Nancy Wheeler because she is really pretty and she gives off good energy. She is also very nice." 
Kill – "Honestly… probably Harry Potter. If I'm being completely honest, he should have married Hermione Granger. It was really dumb that he married Ginny." 
Sav Colagrossi – senior
Kiss – "Sebastian from Black Butler because he is a hot demon butler." 
Marry – "I would marry Edward Scissorhands because he is so sweet and he lives in a gothic tower." 
Kill – "The dad from Caraval because he is a jerk and an abuser."
Abigail Burns – senior 
Kiss – "Jack Frost because I had a big crush on him as a kid." 
Marry – "Hiccup because I want to ride dragons. Screw Astrid!" 
Kill – "Claude Frollo from the Hunchback of Notre Dame because he hates disabled people." 
I hope reading this brought you back to simpler times.  Consider asking a friend, acquaintance, or family member to play this childhood classic and take them back to their childhood once more. The end result will be laughter and conversation filled with odd queries about everyone's favorite fictional characters.