Boys basketball competes at home sectional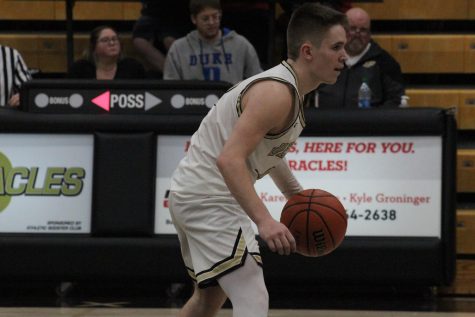 The Oracles basketball team has made a huge turnaround this year, coming off of a 3-20 season last year. This year's squad has found a way to earn a winning 12-11 record in regular season play. The team fared neutrally in conference play ending with a 4-4 record and placing fifth. Led by seniors Cade Nelson, Ty Ellison, and Brock Burton, and coached by Coach Austin Cowley, the team has worked hard to make this turnaround possible.
The boys basketball team had sectionals last weekend and competed in their first game Friday, March 3 against Clinton Prairie. The Oracles played the Gophers earlier in the season in a game that went through two overtimes, ending with a 64-55 result in favor of Clinton Prairie.
In the sectional rematch, however, the game was much different. After struggling to score in the first quarter, the boys were down 11-0 and at the half had barely closed the lead to 22-14 Clinton Prairie. The Oracles were able to split the third and fourth quarters with the Gophers but to no avail as the game ended 57-40 with Delphi never getting within less than four.