Delphi Bracketology recording weekly internet TV show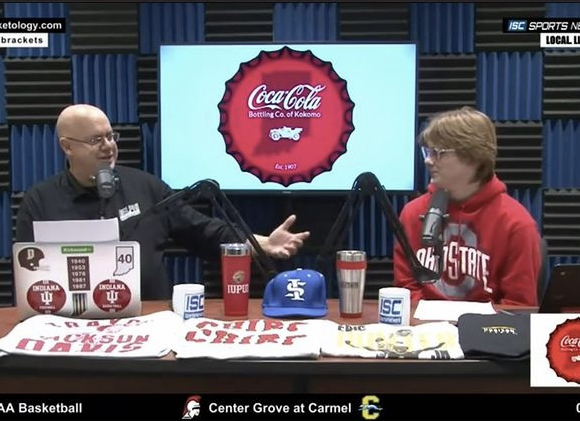 Every year as the winter progresses we move into college basketball season, and with thoughts of college basketball, inevitably people think about March and the NCAA championship tournament. Few people think more about the tournament than Delphi's Bracketology club. In fact, Delphi Bracketology has gained a reputation of being one of the best in the nation, both in predicting the outcome of the tournament, and predicting the bracket itself.
The latest project for the club this year is a tv show being filmed through the ISC Sports Network. In a segment, club adviser Mr. Tonsoni and club members talk about how the bracket might shake out, and what games to watch out for. The show mainly features Mr. Tonsoni and Cade Nelson, but several other bracketology members plan to make appearances.
To watch the program you can find it on ISC's twitter page, with new installments coming out on Tuesday nights. The show runs for about 12 minutes and gives you all the information you need in order to maximize your college basketball experience. 
The show provides a fun yet challenging way for the club members to express their knowledge of the game. "I have so much passion for sports that it just makes it fun and easy," said Cade Nelson. The club has been excited for months for this opportunity, and only thanks to the partnership with Coca-Cola Bottling Company of Kokomo was it made possible. And even with the excitement that comes with this special opportunity for the club, there is a level of difficulty that comes with producing a TV show. "Looking into the camera is hard because I have all of my notes down on paper. So I'll talk about my topic by looking at my paper and at other members of the show, but when the camera is doing a close up of me it's hard not to look at it. Then, when you do look into it, it looks like a black hole of nothingness which is pretty intimidating," Cade Nelson said about the most challenging part of the experience for him.
Other things to look out for from the club include a weekly podcast, called the Bracket Report, which is recorded every Thursday night. Members of the Bracketology Club talk about the previous week's games and determine where teams need to be moved in the bracket. The podcast can be accessed on Twitter, Youtube, Itunes, or Spotify. Also be sure to check out their website for all the most recent updates at delphibracketology.com.