Bracket Busters: Teams that could bust your bracket
March Madness is here. That's right. The single-best sporting event in the world is upon us (sorry, not sorry, World Cup fans).  Last year's tournament captivated the nation. After all, how could it not? The 2018 tournament started with #16 UMBC's historic beatdown on #1 Virginia and ended with Sister Jean leading the #12 Loyola-Chicago Ramblers to the Final Four while the small, Catholic school of Villanova reigned supreme over the land. However, this magical event came with a price; that price was the life of our brackets, our premade notion of hope for our ability to accurately predict the performance of an orange sphere being tossed around by a bunch of college students, which led to yet another year of imperfect brackets. So, in an attempt to prevent everyone from taking a fat L on their bracket, take a look at my suggestions and analysis for the most underrated and overrated teams in this year's tournament that might just save your bracket.
Overrated
#1 Duke (Projected out: Round of 32)
I know, it's Duke. Many of you are probably screaming at your screens and wondering if I have ever heard the name Zion Williamson. Hear. Me. Out. Traditionally, the high-ranked teams that get knocked out of the tournament early have lots of talent but lack experience. Furthermore, when Zion missed time with an injury earlier in the season, Duke went 3-3 and only managed to pull ahead of Wake Forest by 1 at home. If Zion has any more health problems stemming from that injury, or if Duke plays like the group of freshmen they are, then Duke's hopes for a championship will be gone.
#3 LSU (Projected out: Round of 64)
LSU has had a great regular season. However, LSU in March will look a lot different than LSU in
January. Due to the FBI's investigation into corruption in college basketball, head coach Will Wade will be sitting out for the majority, if not the entirety, of the tournament. This was a great team in the regular season, but this exterior interference forebodes a quick exit from the tournament.
#5 Marquette (Projected out: Round of 64)
The Golden Eagles played well all season, including an eight game win streak that included victories over Kansas State, Wisconsin, and Buffalo. However, Marquette ended the regular season with a four game losing streak, during which they allowed 73 points per game, four above their season average, and shot only 40.8% from the field, which is 5% less than their season average. Marquette played a great regular season, but I fear that they peaked at the wrong time to contend for the East region, much less a national championship.
#7 Nevada (Projected out: Round of 32)
The hype for Nevada has been ever-present this season. The Martin brothers led Nevada to a great regular season, but one thing that the Wolfpack lacked in their regular season was good teams to play. While the Wolfpack looked great while beating up on small teams, the hardest team that Nevada played all year was Utah State, with whom they swapped wins. Also, even during Nevada's games against lesser opponents, they had a hard time putting them away, often being tied with their opponents at the half. Playing teams hard for only twenty minutes worked for Nevada in the regular season, but the Wolfpack will be put down early if they try to do that in March.
Underrated
#6 Buffalo (Projected out: Elite 8)
Last year, the madness of March started with #13 Buffalo taking down Deandre Ayton and the #4 Arizona Wildcats. This year, Buffalo returned a core group of upperclassmen from last year's team that is averaging 84.9 points per game, which is fifth in the nation. If Buffalo can put together even a little bit of defensive pressure, the Bulls could make some noise in this tournament.
#12 Murray State (Projected out: Sweet 16)
Ja Morant was able to carry the Racers through the Ohio Valley Conference tournament and secured them a spot in the tournament. From there, the Racers got an interesting draw that gives them an opportunity to get through a few rounds of this tournament. In the first round, Murray State will face off against #5 Marquette, who has fallen off their horse these past two weeks. If Ja Morant can outcompete Markus Howard, then the Racers will be onto the Round of 32, where they will see the winner of #4 Florida State and #13 Vermont. Barring a major upset, Florida State would be a difficult opponent for the Racers, but I think Morant and the Racers, who average over 83 points per game, have the offense to get the job done.
#14 Yale (Projected out: Sweet 16)
Similar to Murray State, Yale's draw was relatively kind to the team's chances of progressing to a Sweet 16 berth. Yale drew #3 LSU, who is currently without their coach and is undergoing an FBI investigation. Furthermore, Yale's older, more experienced squad of upperclassmen gives the Ivy League program an edge over LSU's young group.
By the end of the Round of 64, this article, much like our brackets, will probably be worthy of burning. However, it's not called March Madness for nothing. Be sure to enjoy the upsets, buzzer beaters, and moments of pure awe that make the college basketball championship tournament the best event in sports.
About the Writer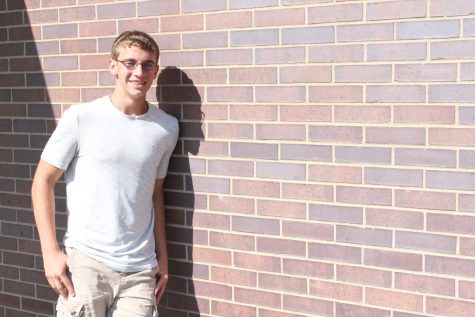 Joe Perry, editor/sports writer
Joe is a senior at Delphi and is in his third year with Parnassus. He plays tennis, cross country, and track, and he is also involved with Bracketology...