Winter Sports Review
Boys' Basketball
For the first time under coach McCammon's second stint at Delphi, the Oracles were above a .500 win percentage. Their season ended at the sectional championship game, leaving them with a record of 13-12. Delphi had an incredible sectional run including an upset of  #11 state ranked Rossville, and a six point loss to Seeger in front of their home crowd. The basketball team will bid farewell to three seniors, all of whom received a varsity letter all four of their basketball seasons. Senior Seth Waters was plagued with injuries this year, but he still managed to have some big games for the Oracles when they needed him. This group also includes the two leading scorers on the season, Blake Carroll and Garrett Tomson. The seniors set the standard for the basketball team, and the remaining team members will look to build on it in the upcoming years.  
Girls' Basketball
The girls' basketball team had the last game of the year against the eventual sectional champions in Central Catholic. The abrupt ending should not take away from the rest of their season, however, because they still won 12 games while losing 10. Defense was still a cornerstone for this team as they averaged nearly 14 steals and 4 blocks a game. They will retain the majority of their team as only two players are going to be graduating this year, and only one of them was a regular starter. The experience gained from this season will be beneficial to the the girls in upcoming seasons, and will hopefully propel them to many more wins.
Swimming
The swimming team amassed one of their most successful years in recent memory. Three relay teams, two consisting of boys and the other girls, reached the sectional final. Juniors Michael O'Neil and Jordan Ladd placed 7th in the 100 butterfly, and 8th in the 500 free, respectively. The achievements in sectionals capped off a season in which both the girls and boys both won three meets. The girls outcompeted Central Catholic, Carroll, and Pioneer, while the boys beat out Logansport, Pioneer, and Carroll. The team graduates seniors Skylar Lyons, Madi Jacobs, and Abi Bieghler, all of whom will be presences missed by the group.  
Wrestling
The boys and girls that make up the wrestling team continued their dominance on the mat. Two wrestlers, senior Brayden Smith and junior Andy Mendoza, were able to advance to Regionals where their seasons ended. The team won several different tournaments, along with placing second in the Hoosier Heartland Conference. The wrestlers' work resulted in a stellar 18-9 record on the year.
About the Writer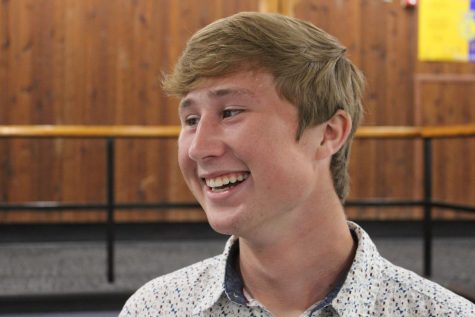 Elijah Hudson, sports writer
Elijah Hudson is a senior who plans on going to Indiana Wesleyan University next fall. He is in his third year on Parnassus staff, where he enjoys writing...