This I Believe
On Tuesday, March 6, the Delphi Community High School English Department will host their second annual This I Believe essay contest and community celebration.
This I Believe essays have been being written around the country for decades. In the 1950's This I Believe was a segment on NPR radio started by journalist Edward R. Murrow. Each week, essays were read by people of all ages across America who were anxious to share their beliefs and values with the public.
This I Believe is no longer a radio program, but teachers all over the country are challenging their students to reach deep within and state what they believe in. It has become a welcomed break from the typical academic writing of English class and has provided refreshing insights to students and teachers alike.
Ms. Isaacs, freshman English teacher, stated, "The This I Believe writing is an opportunity for students to share a personal experience of their own and how it has shaped who they are today. It is always an honor to read each student's story because it gives you an opportunity to connect with them outside of the classroom. While some students dig a bit deeper than others, all students find a topic to write about that they feel best represents their personality. Each story is unique and special in its own way and deserves to be shared."
Junior English teacher Mr. Mroczkiewicz had similar thoughts. "I think that This I Believe is a wonderful way to showcase the talents students in the building have. It's an all-inclusive event. There was a lot of variety with the types of students and types of writing. All the students we have are brilliant in their own ways. This competition brings positivity through these negative times, it focuses on the stories that each student lives and holds true."
DCHS students are excited for the writing opportunity as well. Junior Kate-Lynn Bennett said, "I think the This I Believe competition is a great way for people to heal wounds they didn't know they had. The whole point of the writing is to find something you're passionate about and pour your heart out on paper. I know for me personally it made me feel 10 times lighter."
Senior Jackie Johns agreed. "I think that the This I Believe competition is a great opportunity for kids to be able to express their beliefs. A lot of kids feel like they don't have a voice and the competition really helps them express themselves and find that voice."
Every student in the building writes a This I Believe essay, so it becomes a unifying experience. The English Department wanted to honor those students who told the best stories and to showcase the outstanding writing, so the idea for the competition was brought up last year by Mrs. Kreiling. The English teachers and a small committee of outside evaluators choose the top four essays from each class to be read aloud at a community event. The event also features other talented students. This year Elijah Hudson will play the piano, a video will be shown that was produced by junior Skyler Lyons and senior Jared George, and the advanced speech class will present a spoken word poetry performance. This year's event is Tuesday, March 6 at 6:30 at the Delphi Opera House.
This I Believe 2018 winning essayists
Freshmen: Myah Abbott, Riley Gardiner, Nathan Abramczyk, and Haley Nelson
Sophomores: Katie Stanley, Nick Roberson, Elizabeth Walker, and Rylee Houston
Juniors: Abril Cepeda, Faythe Douglas, Katie Klecker, and Kate-Lynn Bennett
Seniors: Kelsi German, Braxton Thompson, Emily Hudson, and Britany Werner
About the Writer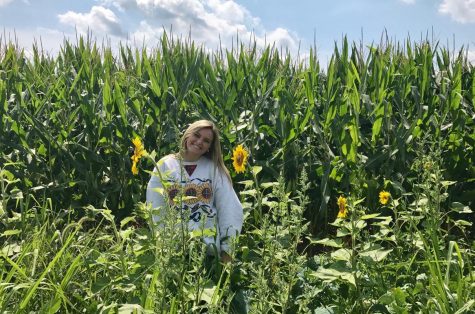 Holly Cosgray, Staff writer
Holly will be a senior at Delphi and in her first year on the Parnassus staff. She is also involved in Interact, Spanish Club, NHS, Student Council and...