Delphi students share songs to listen to when stressed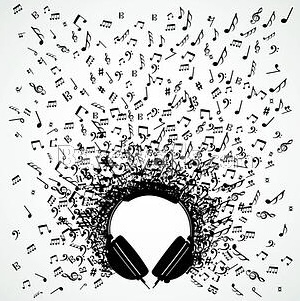 I'm sure we've all experienced the overwhelming overload of studying, homework, tests, and extracurriculars or jobs on top of that.  Of course these feelings of stress are inevitable, but there are many ways to help reduce the overwhelming feelings.  Music is one of them.  Several students at Delphi agreed that listening to music helps relax them. Here are some of their favorite songs and genres of music that help bring a sense of calm in times of distress.
"When I'm stressed I listen to rap music all the way up," Maddie Prickett said.
"I like to listen to my Spotify playlist.  It has all sorts of different songs that help when I'm stressed.  For genres I really like country or upbeat types of songs," said Sheridan Rice.
"Sad songs.  Makes me feel better for some reason and understood.  'I like Falling' by Harry styles, 'Lifeline' by Rueben Gray, and 'This is How You Fall in Love' by Jeremy Zucker," Myah Abbott said.
"I like rap music and Good Ones by Gabby Barret," said Kayleen Stanley.
"I like songs that put me in a good mood and give me energy. Nice upbeat songs that make me bop my head are usually my type.  'Bang' by the band AJR is a good example," Noah Red Elk said.
"I like to listen to country music when I'm stressed," Lily Cadwallader said.
"Anything sad or instrumental, like slow sad songs.  "Drivers License" is honestly pretty good and anything by JP Saxe," said Abby Schoen.
Some of these could be great suggestions for other students or teachers who are in need of a stress relieving activity.  One of the best benefits of music is that it can be used as a stress reliever when doing regular activities and doesn't take time away from busy schedules.  Times when you can simply press play and listen to the therapeutic tunes could include when getting ready in the morning, when making breakfast or cooking, when cleaning, before bed, when studying and when doing homework.  When listening to music you may just find increased enjoyment in activities you do and reduce stress from your day.