Listening to Christmas music: sooner or later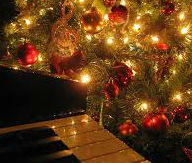 Black Friday now starts on Thursday, and the holidays are approaching faster than ever. But as kids (and teens) start creating Christmas lists, I have to ask: when can I start listening to Christmas music?
The Grinch would say, "Never listen to it," and snarl in the damp, dark cave he calls home, but the people of Whoville need to know. So the residents of Delphi will try to discover when to bring the Christmas spirit.
As a person who sings constantly and unabashedly, I would have to say Christmas music can be sung year-round, if you are in 'the mood.' Junior Taylor Kantz agreed by laughing and saying, "Always!" Besides Taylor and me, there seems to be a general consensus of the proper, accepted time to turn up "Jingle Bells."
The generally accepted time to begin playing Christmas music is about November. Senior Blake Ragan set the precedent with "November." Señora Hollingsworth specifically said after Halloween. Most other folks, such as freshman Angel Prince, claimed they wait until after Thanksgiving to bring the holiday spirit.
Even if you wait until Christmas Eve to listen, please enjoy the most festive time of the year. Take advantage of the frosted windows to draw smiley faces. Make a snowman out of the fresh powder and old scarves. Enjoy the feeling of Christmas as much as I enjoy the sound.