The effects of Elon Musk buying Twitter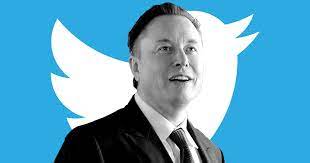 On Monday, April 25, Elon Musk bought Twitter for 44 billion dollars. Elon Musk, the richest man in the world with a net worth of 273 billion dollars, publicly announced a couple of months ago that he wanted to buy Twitter. He said that if he bought it, he would make the website private, make improvements, make the algorithms public to increase trust, authenticate all users, eliminate spammers, promote free speech, and change Twitter's subscription service, Twitter Blue. After owning 9.2% (73,486,938 shares) of Twitter, Elon Musk offered to buy the rest of the stock, and therefore the company. The rest of the stocks, priced at an average of $54.20 a share, would add up to 44 billion dollars in order for Musk to buy the whole company. 
Twitter has over 217 million daily users and generates five billion dollars in revenue every year. So far, ever since Elon Musk offered to buy Twitter, the users and stock prices have risen. After Musk collected over 9% of the Twitter stock, the shares have increased 32%. Twitter finally agreed to sell its company on Monday and it is expected to take three to six months for the deal to close. The company has yet to be granted regulatory approval to sell its shares owned by other people. Till that happens, the deal will be at a standstill. If in the meantime the deal falls through or one of them breaks the trade agreement, either side may have to pay up to a billion dollars. 
Elon Musk not only owns Tesla and SpaceX, but also the Boring Company, a tunnel-digging firm, and Neuralink, a brain-tech company, and all of the companies that are under their domain. He set his sights on Twitter and now 22 days after getting 9% of it and being the majority holder, he already has it. Himself having over 80 million followers and counting, he wanted to make sure that the website was the best that it could be. Though he hasn't officially announced what he would do with Twitter now that he has it, he originally wanted to take the app private and make all of the algorithms public to be able to better run the site. He also claimed that he wanted to get rid of the word limit because there is no limit to free speech. Overall, Elon Musk just wants a safe place for people to freely share their thoughts and feel heard.