Schools face nationwide teacher shortage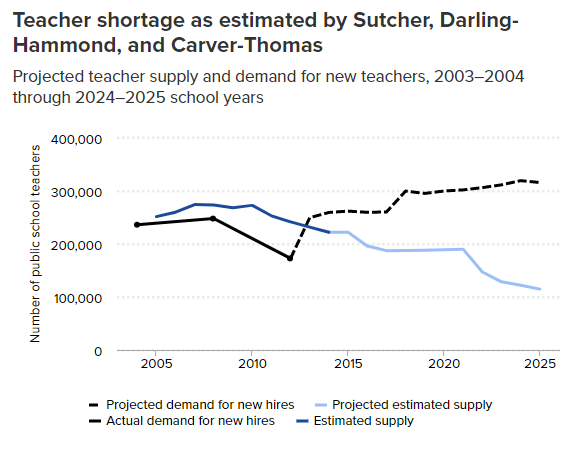 Our country is currently experiencing a nationwide shortage of teachers. This problem is affecting all levels of education; the biggest hit can be seen in elementary education, special education, and foreign language, with STEM classes following closely behind.
Before COVID-19, the number of people entering the teaching profession was already on a decline. As quoted by the Indiana Tribune Star, John O'Neal, an Indiana State Teachers Association lobbyist, states that some factors influencing the shortage are "pay and benefits and other things like working conditions . . . and professional respect." 
When COVID hit, teachers were not considered for early distribution of the COVID vaccine, which did not encourage teachers to enter or return to the profession following the worldwide quarantines. As found in an Indiana State University survey, over 96% of Indiana schools are now reporting a teacher shortage, meaning that they are unable to fill all of the teaching roles required for their offered classes. This shows a 9% increase from the 2020-21 school year's 87%.  
While it would be expected that a shortage of teachers would lead to increased teacher salary, that has not been the case. While Indiana Governor Eric Holcomb suggested that the Indiana General Assembly allot more money to the districts to increase teacher pay, the legislature has been hesitant to do so. In addition, due to a lack of substitute teachers, many districts are having to ask teachers to not take vacation days. "As a result, we are seeing educators being burned out, scared, disappointed and no longer enjoying the profession," stated Terry Daniels, the ISU professor who oversees the aforementioned survey, as quoted by the Indiana Tribune Star.
Though we might not be feeling the stress of the shortage as much as bigger corporations who need to fill more positions, DCSC is still being affected. According to DCSC Superintendent Mrs. Circle, "Teachers that used to be in surplus are no longer [as easy to find]." For example, she said that five years ago, social studies and physical education teachers were plentiful, now there are very few. The number of available teachers in elementary education, special education, and world language are even fewer still. 
One of the big fears held by the administration is losing teachers, whether from retirement, changing schools, or even legislation. COVID caused a lot of teachers to retire earlier than was expected. With the younger staff, the thought isn't on retirement but on them moving or starting families and having to leave. According to high school principal Mr. Shuler, "It is always a worry that teachers are going to leave." Finding replacements for teachers is always stressful, especially with everything going on now with the shortages.
DCHS has had two teachers leave this school year. The French position was open long enough for the administration to turn to APEX. With the low number of available teachers, Mr. Bapin came as a pleasant surprise. Mrs. Circle recalled, "I about fell off my chair when the application came through." As for Ms. Kinzie's position, Mrs. Circle expects that her classes will likely be covered by substitute teachers for the rest of the year; she stated, "If I steal a teacher from another school corporation in the middle of the school year, [kids from that corporation] will be impacted."
Along with the teacher shortage, our school is also facing problems with bus driver and substitute teacher shortages. As stated by Mrs. Circle, "Our pool of subs keeps getting lower and lower." One of the main reasons for this is that substitute teachers are becoming interventionists or being used as long-term substitutes. With such a low number of substitutes, "When you have a large number of staff members out, it becomes very hard to cover everyone," stated Mrs. Circle. In terms of bus drivers, to drive a school bus, you have to have a special license called a CDL. With only a small number of people having that license, "Finding bus drivers has been a big concern," said Mr. Shuler. 
Even with the low number of substitutes, our school corporation has not had to go to any drastic measures in terms of teacher leave. In some schools in the nation, it has become common for schools to revoke teacher vacation days; luckily, our school has not had to go this far, and doesn't expect to ever have to. 
In 2016, it was predicted that there would be a teacher shortage in a report by the Learning Policy Institute, A Coming Crisis in Teaching? Teacher Supply, Demand, and Shortages in the U.S. It was expected that many young teachers would leave the profession within the first five years of teaching due to low wages and poor benefits. After all, there is a difference in pay between being a teacher or going into the field of study associated with a degree. Many teaching positions in math and science require a degree in a specific study, such as a degree in a biology field for a biology teacher. 
Another cause recognized by the report was that veteran teachers would start retiring. When the pandemic hit, it acted as a catalyst and this process was amplified. While there has been a recent increase in students in the education field, experts believe that the shortage will not end until districts can raise teacher pay and increase morale in the teaching field. Recently, Indiana did mandate a higher starting salary for teachers, but that had some negative side-effects of its own. Teachers who had been teaching for around five years were then making the same or less than new teachers, causing frustration which led to their leaving their districts or the profession in general. 
The 2016 report claims that the teacher shortage started with the Great Recession of 2007-2009. During and for a while after the recession, many districts had to resort to layoffs and not hiring new teachers. When the schools finally regained their funding, they had troubles refilling their teaching positions. According to the report, by the 2024-25 school year, the national supply for teachers will be nearly 200,000 below the demand. 
The shortage will likely be most detrimental to the public school system, which relies on public funding to pay teachers; it will likely be most harmful to impoverished communities, especially in non-charter public districts. Without enough qualified and licensed teachers, students' ability to learn will be put in danger. On top of that, high demand and low supply often results in high teacher turnover, which could put districts' credibility at risk. 
Right now, the teacher shortage is the highest it has been, and it is expected to only get worse. Even in a corporation as small as Delphi, we are feeling the impacts. Nationwide there is one overarching question: how long will it last? With the future of the shortage so unpredictable, "It's a huge question of what do we do?" stated Mrs. Circle.