DCHS hosts 5th annual This I Believe event
On Tuesday, March 9, the Delphi Community High School English department hosted the fifth annual This I Believe event in the Little Theater. The event, which was sponsored by the Delphi Educational Foundation, featured the sixteen winning essayists, a spoken word poetry performance, a student-produced video, a saxophone ensemble, and a piano performance. 
Starting in February, every high school student was tasked with writing a This I Believe essay. After all essays were submitted, the English teachers and Mrs. Tonsoni chose four winners from each grade. These winning essayists then prepared for two weeks to present their essays at the This I Believe event. 
Throughout the night, the sixteen students shared their essays. The stories they shared were diverse, ranging from hunting to alcoholism to stealing a picnic table. Despite their different subject matters, the stories that were shared were all very inspirational and moving. As stated by the overall winning essayist Aniana Cepeda, "At first I was really worried about [sharing my essay], until I realized it was not about me, it was about sharing it with others."
Other students were also showcased at the event. To start off the event, senior Noah Red Elk played the song "When the Party's Over" by Billie Eilish on the piano. Later came a spoken word poetry group composed of Jessica Powlen, Hannah Sherinian, and Katlyn Sherinian. Their poem, which they wrote and choreographed with the help of Mr. Mroczkiewicz, was a powerful display titled "Hands." During the event, a video created by Cade Nelson and Abigail O'Neil which explained the roots of This I Believe at DCHS was featured as well. A saxophone ensemble also performed. The group, made up of Brayton Albitz, Jamison Armstrong, Sam Bieghler, Savannah Colagrossi, Kyler Friend, Branston Hanawalt, Kylie McLeland, Paige Rosebrock, Lily Sandifur, Isabelle Voorhies, and Brasen Starbuck, played a piece composed by Paul Yoder titled "Relax." Senior Nathan Abramczyk was the master of ceremonies for the event.. 
In normal years, the This I Believe event is hosted at the Delphi Opera House. However, due to COVID-19, this year's event was hosted in the DCHS Little Theater. Due to this, the number of people who could attend was limited to 100. Even with the change in venue and the addition of COVID restrictions, sophomore finalist Ella Hudson stated, "The English department did very well planning it to flow so beautifully." 
This I Believe started as a radio show in the 1950s with the goal of teaching people to respect the beliefs of others. In 2017, DCHS adopted the idea of putting on a This I Believe contest. Since then, it has been met with positivity from the community, staff, and students. According to Sydney Ross, a finalist from the junior class, "This I Believe is a great opportunity for students to step out of their comfort zones and express what they believe."
2021 Essay Finalists
Freshmen
1 – Mckenzie Sandifur
2 – Brasen Starbuck
3 – Hannah Ladd
4 – Brady Little
Sophomores
1 – Vivian Cox
2 – Emma Mendoza
3 – Elah Abbott
4 – Ella Hudson
Juniors
1 – Connor Roberson
2 – Ava Charnley
3 – Sydney Ross
4 – Savannah Colagrossi
Seniors
1 – Aniana Cepeda
2 – Megan Kelly
3 – Arika Gibson
4 – Clayton Yates
About the Contributor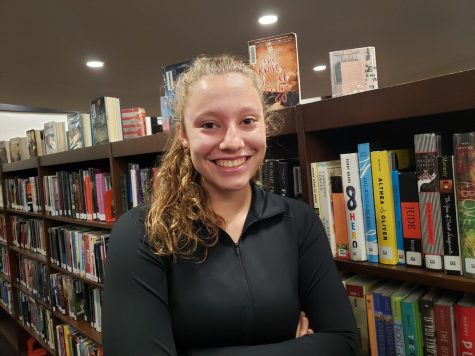 Elyse Perry, editor
Elyse is a senior at Delphi and is in her third year of Parnassus. She is involved in golf, poms, and tennis, as well as Student Council, InterAct, Quiz...