Your much awaited positive news sources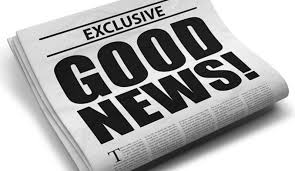 In most of our mainstream media we see the sky rocketing COVID-19 numbers, the negative side of politics, and the world's fast-paced changes that deal with the issues at hand. Sometimes we just need something a little more uplifting in this trying time. Sometimes we need some positive news, so I searched the internet hoping that I could find a corner filled with positivity. The internet delivered with heartfelt stories, people showing their appreciation for others, and telling the tale of a survivor found. Here are some of my favorite places for your positive news. 
Some Good News with John  Krasinski 
Office actor John Krasinski has decided to make his own little corner in Youtube and he is filling it with positivity. After searching Youtube and the web to find a more positive outlook on news and finding little, he decided to make his own. His news channel is filled with inspiring tweets, inspirational Youtube videos, and heartwarming stories gone viral. For more good news be sure to subscribe to his Youtube channel Some Good News. 
Good News Network: Good News, Inspiring, Positive Stories 
This website is a great pick-me up after you get done looking, listening, and streaming mainstream media. There are always new fun and exciting things about this changing world and the Good News Network is here to keep you up to date. 
Tank's Good News – Tank's Good News 
This website covers the more serious side of the good news worldwide. Covering stories like the 102 women who survived COVID-19 twice and the 1918 pandemic, and a man who was stranded 82 miles from sea and was found by a cargo ship. For more heartwarming and inspiring stories check out Tank's Good News. 
Positive News: informs, inspires, empowers – Positive News
This news website covers inspiring stories about what the people are doing with some of the controversial things at hand such as climate change, COVID-19, and the Black Lives Matter movement. All of their articles show the positive light in humanity. If you would like to stay updated on the world with a more positive touch, check out positivenewsus.org. 
Inspiremore.com 
Inspire More is a news website that helps you get through the days. This news site combines the best positive news from our favorite sources such as CNN and Good Morning America to make a scrollable positive news feed. 
These are just my favorite positive news sources, if you have any more that you would like to share be sure to comment down below and share the positivity.