Indiana Beach amusement park closed
As of Feb. 19, 2020, Apex Parks Group has announced that Indiana Beach Amusement Park in Monticello, Indiana will be closing after nearly a century. Apex Parks Group, the company that bought the park in 2015, stated that they will be shutting down four amusement parks throughout the country, including Indiana Beach. 
According to a statement issued by Apex on Feb. 19, "Despite significant efforts to improve financial performance and considerable investment in rides and infrastructure, we have not seen improvement in operating results." Apex plans to sell as many rides as they can from Indiana Beach. The rest will be taken apart and sent to other parks in California and Florida.
This news comes as a shock to many people in the area, especially students. "I've been going to [Indiana Beach] since I was really little," said Caleb Kauffman, a junior here at DCHS. "Indiana is just going to be known for its corn now," he stated. 
Throughout the years, many of the students at DCHS and the surrounding schools have been employed at Indiana Beach. Abigail Schoen, a sophomore at DCHS, started working at Indiana Beach in 2019 as a scare actress. She stated, "It's really upsetting that the Beach is closing. I don't know where I'm going to work." 
When the announcement was made, thousands of people took to the internet to see if there was any way to buy Indiana Beach and save the amusement park. On the same day, a man in White County named Dustin Sprunger created an online petition titled "Help Save Indiana Beach." Within the first 24 hours it was up, it gained 20,000 signatures. One person who signed the petition claimed, "[Indiana Beach] should be a historic landmark." 
Indiana Beach was started in 1926 by the Spackman family, who owned it until 2007. During those 89 years, Indiana Beach hosted concerts for bands such as the Rolling Stones, The Who, Sonny and Cher, and the Beach Boys in their ballroom. They made most of their money from these concerts. However, after the creation of big concert venues and arenas in the area, such as Ruoff, their profits declined drastically. 
In 2007, the Spackmans chose to sell the park to Morgan RV Resorts. They owned it for seven years until it was bought by Apex in 2015. Now, with the closure of the amusement park, the site's future is looking uncertain. When asked, the White County Mayor's office refused to comment, stating, "Talks are ongoing with county and Indiana Beach personnel and we want to keep everything quiet until these talks play out." 
While the future is uncertain, there have been many ideas thrown around. Ideas ranging from a boardwalk to a public beach have been suggested. However, until a decision is reached between Apex and White County, no one will know what is to happen to Indiana Beach.
About the Writer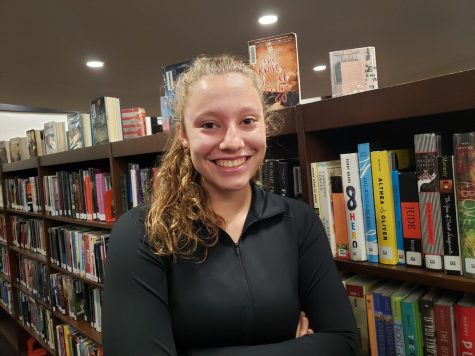 Elyse Perry, editor
Elyse is a junior at Delphi and is in her second year of Parnassus. She is involved in golf, poms, and tennis, as well as French club, Quiz Bowl, and Academic...