Nike's prominence in NBA in jeopardy
When the National Basketball Association was brought into existence, Converse Chuck Taylors were the prevailing shoe on the court. However, as times changed, Puma became a particularly popular shoe throughout the league, with many players donning the Puma Clyde (named after Clyde Frazier, who was one of the first players to get a signature shoe). However, in the 1980s a bold, impressive new player came on to the scene who forever changed the sneaker culture of the NBA. Michael Jordan brought Nike, through its subsidiary brand Jordan,  into the forefront of the sneaker world, through his dazzling style of play, and the sleek kicks he wore on the court. Since then, Nike has snatched up many NBA players with endorsement deals. Jordan and Nike combine for an average of 67% of the basketball shoes worn in NBA games. Nevertheless, there are several companies, such as New Balance and Puma, who are trying to break up Nike's near monopoly on the game of basketball.
An endorsement deal can near single-handedly turn a fledgling institution into a shoe powerhouse. Steph Curry was signed by Under Armour in 2013 and released his first shoe, the Curry 1, in 2015. Around that time Steph rose to stardom, and quickly became a household name. He is arguably the best shooter of all time and has had many young boys and girls to want to be like him. Under Armour took note of his popularity and used it to their advantage. They heavily marketed towards those particularly under 18, and sold their shoes for less than other signature sneakers, such as Lebrons, or Kobes. In doing so, Under Armour hit a home run and is now considered one of the three biggest basketball shoe companies, along with Jordan and Nike. Keep in mind that they became a powerhouse in the basketball world in less than five years, so they will be looked to by other companies that would like to see the same success.
One of these inspired companies is New Balance. For example, Kawhi Leonard was up for a contract extension, as his contract with Jordan was coming to its end. Jordan reportedly offered Leonard a four year contract worth 20 million dollars. Instead of resigning with them, he ended up signing with New Balance. With one of the biggest names in the NBA with their company, New Balance is vying for emergence in the basketball sneaker world. In the near future, they are expected to release a line of basketball shoes and be direct competitors to Nike.
Take the Chinese company Li-Ning as a case in point. Recently they signed one of the greatest shooting guards of all time, Dwyane Wade, to their name. Wade, who was drafted in 2003, quickly received an endorsement deal from Converse, which is a part of Nike. In 2009, he switched to being a part of the Jordan company. However, earlier this year, he signed a 10 year contract with a Chinese company called Li-Ning. He left the prominent Jordan brand to help create his own brand at Li-Ning. Also, they offered him equity in their company, so it provided an opportunity for Wade to make money for the rest of his lifetime. Li-Ning and Dwyane developed a shoe, Way of Wade, and it is the most popular shoe from the company in the NBA. Li-Ning also signed NBA star CJ McCollum in 2017, and hopes to find similar success with him. Also, Li-Ning is the official sponsor of the Chinese Basketball Association (CBA). They did have a five year deal in which they paid the league $300 million to be their sponsor. In 2017, they made a similar deal for five years, except they are only funding the CBA with $150 million. The money they are saving could be used to push their prevalence in the NBA, and then onto the streets of America.
Puma took a step back from basketball following their success in the 70s and early 80s. Over the summer, the brand promulgated their return to the basketball sneaker business. They made a splash early signing multiple top draft picks in this year's draft, and naming music icon Jay-Z as their creative director of their basketball division. However, it is still too early to tell if Puma will be able to make a lasting impact with their new rebranding. If some of their signees, such as Marvin Bagley III, and Deandre Ayton, can rise to stardom, that will surely help Puma. Another possibility is that they have a sleek redesign of their shoes that attract NBA players throughout the league to showcase their shoes on the court.
As of late, several different companies have been pushing their name into the NBA world. Quite possibly in the next couple of years, we might see Nike decline, as other brands make their rise in the game of basketball.
About the Writer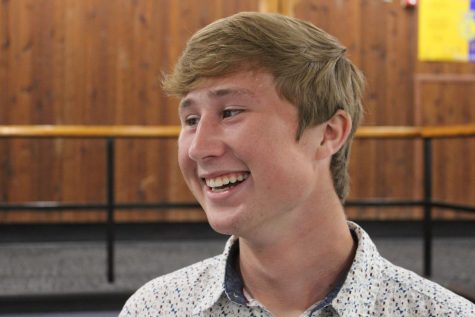 Elijah Hudson, sports writer
Elijah Hudson is a senior who plans on going to Indiana Wesleyan University next fall. He is in his third year on Parnassus staff, where he enjoys writing...