The unique Christmas traditions of DCHS students and staff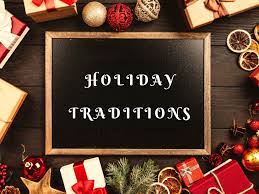 Each year when Christmas comes around, people gather together with their families and enjoy time together. Most people put trees and decorations up in their house, but some people have traditions that are completely unique to their families. Below are some of the traditions that the staff and students at DCHS perform annually in preparation for the holiday season.
Mrs. Kirkwood: On Christmas Eve morning, we put all cell phones and computers in one room until Christmas Day.  Then, all the kids, spouses, and grandkids come over at noon.  We have snack foods all day and play board games until it is time to go to church.  After church, we come home and open gifts.  As the kids have gotten older, they tend to want to put off gifts and go back to playing games.
Mr. Gleason: When we are able to make it back home to Upstate NY for the holidays (and every Christmas from when I was a young boy to an adult), we gather as an extended family for a meal and fellowship. After dinner, we transition to my mother playing the organ and the family singing Christmas carols/hymns together, with my mother asking my brothers and I to sing at least one song in German. Near the end of our time together, we will pass around a lit candle and everyone has an opportunity to share something that they are thankful for (typically between 20-50 people are there so it takes a while).  That time is often filled with some funny comments, but some sincere ones as well. We then end the night with my Uncle Wayne reading the Christmas story to the family from Luke Chapter 2.  It truly is a special time as a family and I appreciate it more each time I get to experience it with my own kids whenever we get back home.
Lainey Nipple: We watch The Polar Express on Christmas Eve. We also open one present that night as well.
The Christmas season is a time full of standard traditions and unique traditions. No matter how you choose to celebrate, we at Parnassus hope you have a joyful holiday season.