Who is Hasan Minhaj?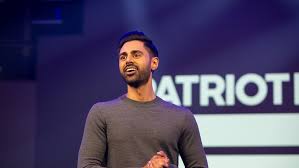 If you have watched the Netflix show The Patriot Act, you have been privileged with the wonderful, comedic presence of Hasan Minhaj. Hasan Minhaj is unlike any other comedian I've ever watched in my entire life. He delivers his jokes with such ease and treats his audience as if they are friends he's known for years. He also addresses major political issues with such a sense of clarity and understanding that it is easy to forget he is a comedian and not a political science professor. 
I first discovered Hasan Minhaj on YouTube when a video of his speech at the 2017 White House Correspondents' Dinner had just gone viral for its honest, satirical nature. Minhaj directly addressed comments made by President Trump and explained how they made him feel as a first generation American Muslim man. The audience was silent, as no one knew how to respond to his style of humor. Here is a much talked about line from his speech as an example: "I would say it was an honor to do this, but that would be an alternative fact. It is not. No one wanted to do this, so of course it falls in the hands of an immigrant. That's how it always goes down." 
Hasan Minhaj's show The Patriot Act specifically tackles popular political issues such as climate change and healthcare in America. Miraculously, Minhaj appropriately addresses these issues while also remaining lighthearted and comedic in nature. Minhaj also conducts interviews with important political figures. Most notably, he has interviewed Justin Trudeau, Bernie Sanders, and Corey Booker. Minhaj has truly proven that comedians can be politically correct while remaining entertaining. 
Hasan Minhaj even testified before Congress to rectify the student loan debt crisis. Minhaj stated, "I think it's a huge problem that the youth of America have to bombard their favorite rapper or pop musician and ask them to pay back their student loans."  Hasan Minhaj was referring to a situation in which a college student tweeted Taylor Swift to help aid them in paying for their student loans. Minhaj's frustration with the student loan debt crisis is mutual among many millenials weighed down by thousands of dollars due to attending post-secondary education. Hasan Minhaj is actively looking for a way to resolve this issue. 
Hasan Minhaj is a beacon of light in this seemingly dark world. His presence in both the worlds of politics and comedy is admirable as well as inspiring. Hasan Minhaj motivates his younger audience to follow their dreams and make their voices heard.