Musical revolution Hamilton fights to the top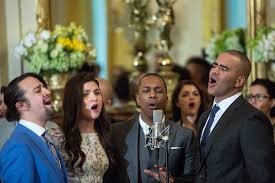 Even the most successful musicals on Broadway don't often receive many accolades from the general populous, but if you haven't heard of Hamilton: An American Musical, you are missing out. Hamilton is the rap musical about Treasury Secretary Alexander Hamilton. It is the obvious topic for anyone creating a modern musical. Well, maybe not, but writer and composer Lin-Manuel Miranda adamantly says that was his exact thought after reading the first two chapters of the book Alexander Hamilton by Ron Chernow.
Hamilton premiered on Broadway at the Richard Rodgers Theatre on July 13, 2015 in previews, and opened on Aug. 6, 2015. Just this year, Hamilton is set to gross $100 million in ticket sales. There are many factors of the musical which have all had a significant effect on the success. The main genius of the musical is creator Lin-Manuel Miranda himself. After growing up in Manhattan with his Latino, broadway-loving family, his stage was set for the curiosity and passion it takes to write a nationally successful music. Not only did he compose the entire musical, he also starred as Alexander Hamilton for the first year of its opening. He inspires many people with the diverse cast, musicality, and content of the show. Even more inspiring is Lin's day to day acts of kindness and humanity. For instance, every day he writes good morning and goodnight tweets to all of his 784,900 followers, some of which include Jimmy Fallon, Samuel L. Jackson, Idina Menzel, and Buzzfeed. Overall, Lin has won one Pulitzer Prize, two Grammys, an Emmy, three Tony Awards, and many other awards and honors.
Another major contribution to the overwhelming success is the original Broadway cast. The cast was specifically chosen with the theme, mentioned by director Thomas Kail, "America then, told by America now." The cast includes every race from African American George Washington and Thomas Jefferson to Latino Alexander Hamilton to Chinese American Eliza Hamilton to white King George III. All of them have the talent that is expected in Broadway, even debut members like Daveed Diggs, who plays Thomas Jefferson and Marquis de Lafayette. The revolution and success of a multiracial cast playing primarily white characters has transformed the way people view the potential world of acting. Hamilton has opened doors that were previously closed.
The musicality of Hamilton is just as important a breakthrough as the cast. Some people don't enjoy cabinet meetings, other people don't enjoy listening to rap music, and most people aren't crazy about politics—so it makes perfect sense that when combining these three things you get a beloved, heated rap battle about sending funds to France.
That is the beauty of Hamilton. Classical Broadway song styles hold hands with rap battles that intrigue everyone in a way no one would have imagined. Lin-Manuel Miranda said, "The reason Hamilton works is because there is no distance between that story that happened 200-some-odd years ago and now, because it looks like America now." The rapid success of Hamilton is caused because people want to see a rap Broadway musical about Treasury Secretary Alexander Hamilton.