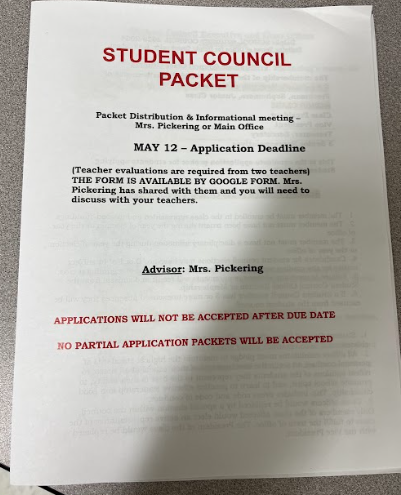 Student Council forms
If you are interested in joining the Student Council, forms are available in the office. Student Council is the student voice of the school. They work with the school administration on potential changes, and they are responsible for planning things such as dress up weeks, homecoming games and pep rallies, and other activities for the whole school to get involved. Not only are there forms for new representatives, but also for class presidents. If you are interested in being the class president for the Class of 2024, be sure to pick up a form and turn it in to Mrs. Pickering.
The Parnassus intends for this area to be used to foster healthy, thought-provoking discussion. Comments are expected to adhere to our standards and to be respectful and constructive. As such, we do not permit the use of profanity, foul language, personal attacks, or the use of language that might be interpreted as libelous. Comments are reviewed and must be approved by a moderator to ensure that they meet these standards. Parnassus does not allow anonymous comments and an email address is required. The email address will not be displayed but will be used to confirm your comments.