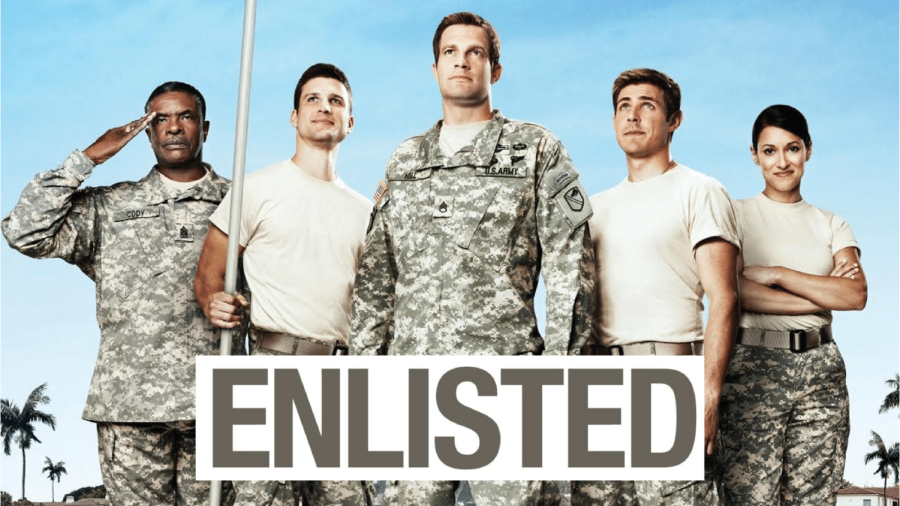 TV Throwback: FOX's "Enlisted"
The year where Kim and Kanye got married in style, the Ice Bucket Challenge took the internet by storm, "Happy" by Pharrell Williams got everyone's hands moving, Jimmy Fallon took to the

Tonight Show

, and Ellen's selfie at the Oscars became the most popular tweet in history. Let's take a ride back, shall we? (On second thought, remember that weird virus called "

Ebola

?")
In 2014, FOX debuted a new show, Enlisted. The basis of the show was golden: mix up equal parts of The Office and Parks & Recreation, sprinkle in a few even crazier characters, add a dash of sibling rivalry, place the cast in Florida, and put the characters in camo. Basically, the show is centered around three brothers in the U.S. Army that are stationed in the Rear Detachment Unit, a group that completes the necessary tasks on base and cares for the families of deployed soldiers. And let me just say that I've loved watching this show the past couple of weeks. The episodes are short, the punch lines clean, and the characters are absolutely hilarious. The series is even touching at times, as it includes scenes on real-life issues soldiers deal with, such as PTSD and handling grief. 
Unfortunately, Enlisted only made it one season (you could say the show got discharged). However, the fate of the show was rocky from the beginning. First of all, FOX debuted the Pilot episode at the end of the Olympics, so viewership wasn't very high. Then, Enlisted was assigned the dreaded Friday night time slot (viewership is typically low on Friday evenings). In addition, FOX aired the episodes out of order in an attempt to increase the ratings, which just caused viewers to become angry. To top it all off, the decision to cut the show from the air was made before the whole season came out, so the last four weeks it was scheduled to be on TV, the station played reruns. Despite a plea from the director of the show and complaints from the series' cult following, season two wasn't in the cards. Yahoo even made a later attempt to take over the rights of the show, but it was to be short-lived for Enlisted's passionate fans.
However, don't let the show's cancellation stop you from watching it! I truly believe this series is a hidden gem. All 13 episodes are now streaming on Hulu (in order, this time) for your viewing pleasure. Hoorah!