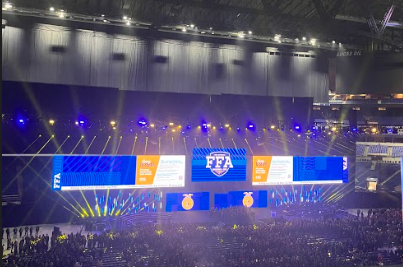 Let's go with FFA travels to Indy for National Convention
A select group from the Delphi FFA chapter took a trip to the National Convention for the FFA. Seventy thousand people from across the United States, including Hawaii and the Virgin Islands, were in attendance at Lucas Oil Stadium in Indianapolis for the 95th Annual National Convention. The FFA members heard from a guest speaker, Tamika Catchings, who is a former WNBA star and suffers from moderate to server hearing loss. Many members got to meet new people, explore downtown Indy, and watch people receive awards for their Career Development Events and Leadership  Development Events. The Delphi FFA chapter was recognized as a two-star chapter for completing the national award form. Some of the members' favorite part of the experience was going to a rodeo after the eventful day at the convention.
The Parnassus intends for this area to be used to foster healthy, thought-provoking discussion. Comments are expected to adhere to our standards and to be respectful and constructive. As such, we do not permit the use of profanity, foul language, personal attacks, or the use of language that might be interpreted as libelous. Comments are reviewed and must be approved by a moderator to ensure that they meet these standards. Parnassus does not allow anonymous comments and an email address is required. The email address will not be displayed but will be used to confirm your comments.