Teacher Feature: Madame Tyner
How does it feel to be out of ReTYNERment? 
It has been a joy and a pleasure to be back in the classroom teaching French! I have missed my students during ReTYNERment and am thankful for this opportunity. The only part I dread is that obnoxious alarm clock ringing way too early in the morning. I love sharing my passion for France and all things French!
What is your favorite word to say out loud?
I love saying "quelquefois" (sometimes) and "quatre vingt quatre" (eighty-four).
Where is your happy place?

My happy place is Hollywood Beach, Florida when I am there with my husband, children and grandchildren. 
How many times have you visited France?
I actually lived in Brittany, France as a foreign exchange student in high school! I have returned 3 times since then with former DCHS French students while on European tours, and I have gone twice with my husband. 
If you had to smell like one kind of food for the rest of your life, what would it be?
French onion soup! I have fond memories of sitting in Paris cafes eating delicious French onion soup and I make a pretty good bowl of it myself! It smells so good and warms the body and soul!
BONUS: If you were in the witness protection program, what would be your new name and where would you go? 

Juliette LaCrepe and I would go to Eze, France: a beautiful medieval hilltop village overlooking the French Riviera and the Mediterranean Sea.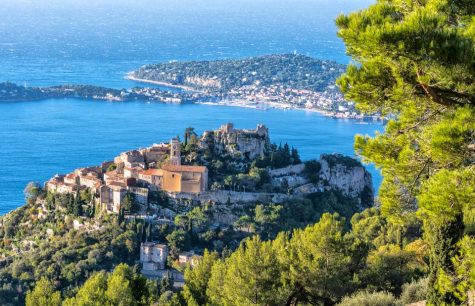 The Parnassus intends for this area to be used to foster healthy, thought-provoking discussion. Comments are expected to adhere to our standards and to be respectful and constructive. As such, we do not permit the use of profanity, foul language, personal attacks, or the use of language that might be interpreted as libelous. Comments are reviewed and must be approved by a moderator to ensure that they meet these standards. Parnassus does not allow anonymous comments and an email address is required. The email address will not be displayed but will be used to confirm your comments.