Fall‌ ‌overview‌ ‌of‌ ‌the‌ ‌DCHS‌ ‌vs‌ ‌Carroll‌ ‌rivalry‌ ‌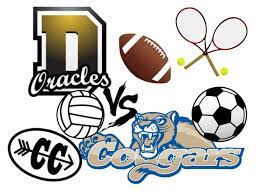 The fall season of athletics has come to a close, and the rivalry between our school and the school to the east has continued strong. During the fall season each sport has faced off, with volleyball having an extra encounter during sectionals. After all of these faceoffs, our rivalry record is 1-6.
The football team faced the Cougars in the annual Bacon Bowl, and in a game run by the defenses the Cougars came out on top. The Oracles offense was held up all game for a total of only 81 yards. This was only one of three losses for the varsity football team in the regular season.
The girls golf team had the sole rivalry win during the fall, outstroking the Carroll opponents 240 to 245. This has been a very successful year for the team, having a full team for the first time in several years. The boys tennis team, due to a lack of experience, fell to the Cougars lineup. The team did make tremendous growth since the beginning of the season, however, and will look to be competitive next year.
In the Hoosier Heartland Conference cross country meet, the Oracle runners ended the day with a 5th place finish, 15 points behind the 4th place Carroll team. The girls team did have some good finishes but were a runner short of scoring eligibility. Had they had another runner, they likely could have challenged the Cougars.
Volleyball lost their rivalry matchup in three sets. They came close to set wins twice, but couldn't manage it in the end. In their sectional match, they again faced Carroll, and lost in three once again. The second matchup was much closer, and two of the sets went 25-23. The soccer team faced equally tough opponents in the Cougars, and lost 9-0.
The winter sports stand to have a significantly more favorable outcome, with swimming, basketball, and wrestling all preparing for their seasons. The current rivalry record is 1-6, but that could change quickly with the upcoming winter athletics. Be prepared to see some good matchups between the Oracle teams and our rivals to the east.