Delphi Bracketology prepares for competition
Hang on for a minute...we're trying to find some more stories you might like.
Delphi Community High School is well known in the sports world for its Bracketology Club. The club gained fame after being National Bracket Champions in 2016, and being featured on CBS television during the national broadcast of the NCAA men's basketball tournament.
Bracketology Club began four years ago when Mr. Tonsoni challenged some of his students to help him try to predict where Purdue and Indiana would be seeded in the tournament. Seeding is how highly a team is ranked in comparison to other teams. As they studied the process involved, they realized how fun and challenging it was and decided to try to predict all of the teams. The club has been going strong ever since. While many of the original group members have graduated, they have been replaced by equally capable underclassmen. The club is headed by Mr. Tonsoni, who is assisted by Mr. Gilbert, Mr. Painter, and Mr. Kline.
Bracketology Club is active all school year long. In the fall, before basketball season starts, the members are busy making videos about college football. They write a script weekly, which consists of game of the week, coaching hot seat, college gameday traditions, and a panel that discusses the big topics.  New and creative segments are added regularly to give variety. The videos are filmed before school then edited to be ready for publishing. These videos are posted online by a group out of Arizona called Student Union sports.
Now that it is the in the heat of basketball season, the Oracle bracketologists are focused solely on college basketball. The group meets every Thursday morning to discuss the week in basketball. Occasionally, they meet at Buffalo Wild Wings, or at Mr. Tonsoni's house.
There are a variety of things that the group looks at when they are seeding teams. They look at things such as overall record, strength of schedule, certain metrics, quality wins, and bad losses. They have a spreadsheet that has their rankings of all the teams within it. This spreadsheet is looked at daily by the members, and teams are constantly being moved up or down. They enter a competition on http://www.bracketmatrix.com/ each year to test their team rankings. Bracketology is then judged on how close each team is placed on their bracket compared to the official bracket. The points are awarded to each group and a winner is announced.
Many of the moves that are made are being posted on twitter, or on the club's website http://www.delphibracketology.com/. Their website gets hundreds of views each week. People from all over the country regularly tweet at the group commenting on the moves they have made. Delphi Bracketology is recognized as a legit group of bracketologists whose opinions are listened to even outside of Delphi. They are currently standing as the number one bracket newbie group, which means they have competed two times or less.
Currently, Bracketology is making the final changes to their bracket for submission. They will submit their bracket on March 11, and the official bracket will be released later that night. Their bracket will be judged on how close the teams are placed compared to their actual seed. If they do well enough this year, they have a chance to be recognized as the top bracket veteran group in the Bracket Project. The Bracket project ranks all of the bracketologists that enter their bracket to be judged.
You may not have realized it, but the best bracketologists in the world might just be sitting across from you in math class.
Update:  Delphi Bracketology placed 9th in the 2018 bracketology competition on www.bracketmatrix.com.  They have increased their score every year since they began competing.  The club looks to lead the nation in overall scoring average in the last 3 years.
About the Writer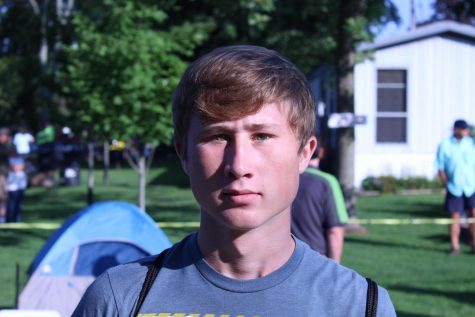 Elijah Hudson, sports writer
Elijah is in his second year on Parnassus staff and is loving every second he can be around his colleagues. He has finally reached the upperclassmen threshold...