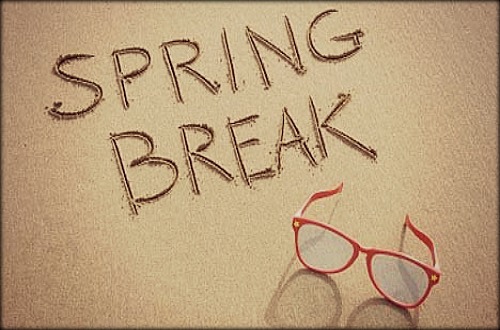 Spring Break is the best time of the year for a little relaxation and distraction from school and stress, and also is a great time for vacationing to exciting places.  Listed are the top seven places to travel to in the US for spring break.
New York City.  This is the city that is always awake and always has something exhilarating at hand.  There are so many options: Times Square, the 9/11 memorial, the Statue of Liberty, Broadway musicals, wax museums, and so much more.  You might even get the chance to spot a celebrity.
Grand Canyon National Park. The Grand Canyon is an amazing tourist spot to take pictures and stare in awe at the gaping hole that prolongs for 277 miles.  One of the most thrilling things to do there is go white water rafting. Just try not to get thrown off the boat.
Los Angeles.  Just like New York City, LA has just as a lot to offer a tourist.  There are several wax museums, plenty of beaches, the Griffith Observatory (the most amazing view in the city), show tapings, such as: Conan, Ellen Show, or Jimmy Kimmel, and you can always take a hike to the Hollywood sign.
Las Vegas.  Vegas, of course, is well known as the city full of gambling.  But, besides that, there are plenty of shows to see such as David Copperfield, or the Jabbawockeez.
San Francisco.  In this gorgeous city, you can drive or bike across the 2 mile long Golden Gate Bridge, or take a ferry to Alcatraz, the prison that once held the world's most dangerous criminals.
Washington DC. The capital of the US is a very eventful and educational place with many museums and memorials to visit.
Walt Disney World Resort.   Home of the most magical theme parks on Earth, Disney World will always keep you busy with fun.  With four different parks, each one is equally as magnificent as the next.