Delphi students impress ISSMA judges
Hang on for a minute...we're trying to find some more stories you might like.
Each year, at the end of January, students from the Delphi high school and middle school band and choir participate in the Indiana State School Music Association (ISSMA) solo and ensemble contest. These musicians practice their songs and try to reach perfection. Each soloist or group performer stands in front of the judge and demonstrates their talent.
Saturday, Feb. 4, over forty of Delphi's singers and pianists traveled to Harrison High School to compete in the ISSMA Solo and Ensemble contest. For the contest, the performers must impress the judges with their tone quality, note and rhythmic accuracy, intonation, diction, interpretation, and musicianship. These qualities of each individual's performance are scored together to dictate whether the student receives a gold, silver, or bronze medal. Mrs. Cotten, the high school and middle school choir teacher, was proud to report that "We had 19 golds and 4 silvers overall*! This is a difficult contest and both gold and silver are wonderful!"
From the freshman class, Elijah Hudson**, Ensley Circle, and Megan Dunning each received gold. Sophomores Kerri Toole and Faythe Douglas were awarded gold. Junior soloists Emily Hudson and Cassidy Kelly took home gold medals. Most importantly, the seniors Bella McGill**, Xander Brown, Emma Clouse, Kenzie Kirkwood, and Blake Ragan all got gold for the last time. Several ensembles also competed and received gold and silver. These include the Kleckner group, Voca Delphiniums, and the Entertainers.
Since the contest sees some of the greats from each school, students that compete in the hardest class (Group One), and receive a gold, have the opportunity to also compete at the state level. From Delphi, Bella McGill, Xander Brown, Emma Clouse, Emily Hudson, Blake Ragan, and the Entertainers all chose to compete in Greenfield on Feb 18. Each of these singers is proud to report a gold on the state level.
On Saturday, Jan. 28, the band students went to Harrison High School to perform their instruments in front of the solo and ensemble judges. These students were judged on tone quality, articulation techniques, note and rhythmic accuracy, dynamics, interpretation, and musicianship. Band director Mr. Dennison taught the musicians these skills so they could perform their best.
There were eleven Delphi high school students that went to band solo and ensemble. The soloists were Bella McGill (Silver), Samantha Gunther (2 Silvers), Abigail Bieghler (Silver), Angel Prince (Gold), Michelle Perler (Gold), Aaron LaFond (3 Golds), Andrew Schoen (2 Golds), and Michael Benner (Gold). Aaron LaFond, Hannah Alexander, Carol Johnson, Sophia Gunther, and Andrew Schoen participated in an ensemble and received gold.
*this number includes the middle school performers
**these students performed their events on the piano
About the Writer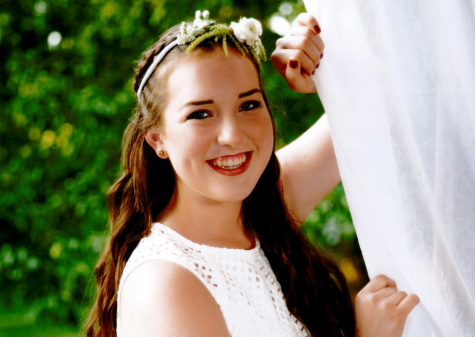 Emily Hudson, Editor
Emily Hudson is a senior at Delphi and is in her second year on the Parnassus staff. Emily performs with the Entertainers and in the spring musicals. In...