Spring sports preview
Track and Field
The track and field team is returning to action after a struggling season last year. This year's team is looking forward to improving and getting more wins. Delphi has a returning regional qualifier in junior Max Kender, who advanced last year in the 300 meter hurdles. Sophomore Isaac Dekalb is looking to grab a sectional title in the 100 meter dash. He unofficially broke the school record for the 100 last year, so surely that will be a goal he will strive to get. Along with these solid runners, the Oracles hope to add more regional qualifications in the 1600 meter relay and the 3200 meter relay.
Baseball
The historically strong Oracle baseball team is going to have a chance to add onto the team's legacy this year. Pitching will be a strong aspect of the team, led by senior Cade Murray who recently signed to play baseball at Indiana Tech. Both Murray and sophomore Jayden McClain had ERAs of less than 3 last season. Junior Seth Waters, junior Aaron Webb, and McClain all posted batting averages of at least .320 in the 2017 season. Delphi should be as fun to follow this year as any other year.
Softball
Coming off of a year in which the team went 14-7, the Lady Oracles have seven returning players. This includes the team's four seniors: Aspen Riley, Katherine Lang, Faith Butcher, and Morgan Fritz. The seniors are very experienced, so it will be exciting to see where their leadership takes the team. Riley, Lang, and Fritz all had batting averages above .400 last year. The team regularly takes advantage of their batting attempts, and held a .472 on base average as a team. This season's Oracle squad is coached by Randy German.

Girls' Tennis
The Lady Oracles are looking forward to refining their skills this year after finishing with one win last season. This process will be headed by large group of seniors including Taylor Bartlett, Brieghan Rorhman, Chelsea Whitfield, Brigi Baranyai, Tori Nacke, Francheska Jimenez, Autumn Parker, Kaitlyn Landis, and Taylor Kantz. Players to watch this year are Bartlett and Landis with their great skills on the court. Look for improvement and strong senior play to help this team down the road this season.
Boys' Golf
There are six golfers returning from last year's team.  Seniors Hayden Welk, Graeme Supple, and Aaron Lafond lead the team, while juniors Chad Canen and Max Schimmel bring added experience.  Sophomore Riley Lowder and freshmen Sam Schimmel and Dalton Blankenship round out the 2018 golf team.  They have some great young talent combined with excellent leadership at the top.  If the boys can continue to improve their individual scores each match, they will find success as a team.
About the Writer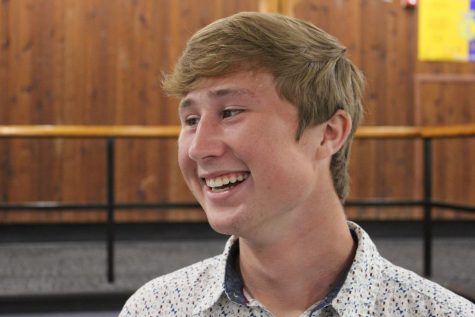 Elijah Hudson, sports writer
Elijah Hudson is a senior who plans on going to Indiana Wesleyan University next fall. He is in his third year on Parnassus staff, where he enjoys writing...