Villanova captures trophy in unexpected NCAA tournament
Hang on for a minute...we're trying to find some more stories you might like.
The 2018 NCAA tournament was a once in a generation tournament. Titans fell, history was made, and, as always, brackets were busted. However, that was just the beginning. This tournament featured the first time that a 1 seed fell in the first round. It featured unexpected blowouts by Buffalo, UMBC and Texas A&M. It featured how an 11 seed and its 98 year old team chaplain can captivate a nation. This year's tournament went beyond the term madness.
The madness of March started before the tournament. In the Big Ten tournament, a Michigan team got hot and took down Michigan State and then Purdue to take the crown. As championship week progressed, upsets in the C-USA, MWC and A-10 tournaments knocked out conference favorites, such as Middle Tennessee State, and also stole at large bids from teams that many speculated would get in, such as Notre Dame and Oklahoma State.
Then, the beloved Round of 64. The one round where everyone is excited and talkative about their bracket! That is, until the round started, and upsets by UMBC, Marshall and Buffalo shocked the nation and knocked out highly ranked seeds Virginia, Wichita State and Arizona. In fact, this tournament was filled with so many upsets and underdogs that every single one of the bracket entries on ESPN, over 17 million, were busted after the first round.
To finish out the first weekend, the Round of 32 added more heartache to everyone who still hadn't ripped up or burned their bracket. Eleven seeds Loyola-Chicago and Syracuse edged out three seeds Tennessee and Michigan State by a combined three points to secure their spot in the Sweet Sixteen. Two seeds North Carolina and Cincinnati fell to their seven seed opponents, although Nevada's comeback against Cincinnati was a bit more fun to watch than Texas A&M's dominating blowout against the Tar Heels. However, the Round of 32 also showed that not all fairy tales have a good ending, as Kansas State ended 16 seed UMBC's run in the tournament.
After a long, basketball-less week, the Sweet Sixteen finally arrived. This Sweet Sixteen, however, was no ordinary Sweet Sixteen. This round marked the first time that a region failed to send its one, two, three or four seed to the second weekend, as Virginia, Cincinnati, Tennessee and Arizona had all been upset within 48 hours of tip off. Not enough? After nine seeds Kansas State and Florida State beat Kentucky and Gonzaga, this tournament also became the first time that two nine seeds had ever made it to the Elite Eight. After the rest of the games produced relatively predictable results, with top seeded teams Villanova, Kansas and Duke getting by, it was time for the Elite Eight.
With the Elite Eight, it was quite simple to see how the bracket was shaping up: the right was normal, with all four teams being either a one, two or three seed, and the left was nothing less than chaos. It marked the first time that a nine and an eleven seed had ever met in the tournament, with Loyola-Chicago and Kansas State facing off in the upside down and backwards South region. It would also be one of the easiest games that Loyola-Chicago played, as their margin of victory quadrupled that of the previous three rounds combined. As Loyola-Chicago and Villanova handled their opponents easily, Kansas and Michigan both struggled for victories against their respective opponents. After Duke's Grayson Allen missed a go ahead, buzzer beating layup, Kansas guard Malik Newman took control in overtime and scored all of Kansas's thirteen points and Kansas won by four. As for Michigan, they took a one point halftime lead, stretched it to ten, and maintained the lead up until the final buzzer.
After yet another dreadful week of work and anticipation, the Final Four finally arrived in San Antonio. Although Loyola-Chicago looked like the perfect cinderella team, complete with their 1963 championship story and their 98 year old team chaplain Sister Jean, who broke records for bobblehead sales and packed newsrooms for her interviews, Loyola-Chicago couldn't complete the job against an explosive Michigan team. Despite being down by seven at the half, Michigan's Moritz Wagner carried the team with 24 points and 15 rebounds, and Michigan punched its ticket to Monday night by a score of 69-57. In the other Final Four game, it wasn't as dramatic. Villanova started the game on a 22-4 run, and Kansas simply could not keep up. After the initial burst of offense, Villanova kept on feeding the fire, nailing 18 three pointers, which sealed both the game and the Final Four record for three pointers in a game. Despite bringing the deficit to just eleven, Villanova never let its lead dwindle to just a single digit, and beat the Jayhawks 95-79.
So, on Monday, April 2, America tuned in to watch Michigan and Villanova battle it out for the championship. However, they didn't see much of a game. Although both teams had put up big numbers on their paths to the championship, Michigan didn't exactly face the caliber of teams that Villanova did. Villanova had to duke it out with juggernauts Kansas, Texas Tech and West Virginia, whose seeds are one, three and five. Michigan, however, made history with the ease of their path; they were the first team in tournament history to make it to the championship game without playing a team ranked five or below. The hardest team they played was six seed Houston, whom they beat on a buzzer beater. Villanova, though, was not as easy as Houston. After a close game with five minutes left in the first half, Villanova pulled away, going on a 12-4 run to end the half. The second half, though, was led by sixth man Donte DiVincenzo, who scored 19 points in the second half and 31 throughout the game. His boost off the bench was enough to fuel Villanova into the winner's circle, and the Villanova Wildcats brought home the trophy in one of the most exciting and unpredictable NCAA tournaments we have ever seen.
About the Writer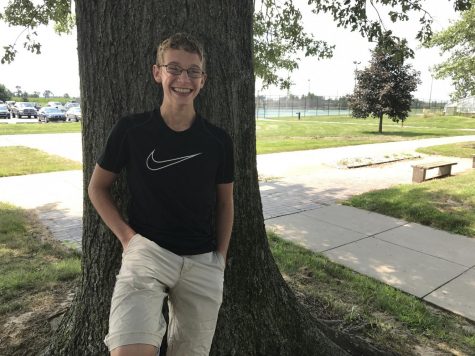 Joe Perry, sports writer
Joe is a junior at Delphi and is in his second year with Parnassus. He plays tennis, cross country, and track, and he is also involved with Bracketology...