Ty Watson ends impressive wrestling career
Hang on for a minute...we're trying to find some more stories you might like.
Delphi's wrestling team is arguably Delphi's most successful sport in the last decade. Led by Indiana Wrestling Hall of Fame coach Mike Atwood, Delphi's lone state championship was won by wrestler Tanner Lynde in the 2012-2013 season, just three years after Braden Atwood placed second in state and three years before Hunter Mote was runner up in his weight class. In order to get to state, though, you have to get to and through semi state. Meet Ty Watson, a Delphi wrestler who has made it to semi state all four years of high school.
Tyron Watson has been a star athlete since he came up as a freshman. In his first year of football, he was awarded the MVP award for the junior varsity. Later that year, he placed second in wrestling sectionals, allowing him to move on to regionals, where he eventually placed third and proceeded to lose in the first round of semi state. In the next few years, he would continue to improve, winning the sectionals in both his sophomore and junior year, even though he was facing tougher competition in a higher weight class. However, he could not surpass the first round of semi state in neither the 120 pound nor the 126 pound weight class.
Then, in the opening minutes of his senior year of football, adversity struck. A member of the Tri-Central defense tackled Ty, ending both the play and his season. The knee injury would later be diagnosed as an ACL and meniscus tear. Original estimates said that Ty would be able to be back to sports by the new year, nearly two months after the football season would end and about midway through wrestling season.
Over the next few months, Ty let his knee heal on the sideline as he watched Delphi's football team run over Oak Hill in sectionals, the same team that had routed Delphi 51-14 in Ty's sophomore year. He strengthened his knee as he watched someone else wrestle in the 126 pound weight class in Delphi's name. Then, after months of waiting and healing, Ty came back. In the remainder of the regular season, he went 19-3. When the team traveled to Lafayette Jefferson High School for sectionals, Ty placed second in his weight class to Evan Burge of McCutcheon and was the only Delphi wrestler to advance to regionals. When he traveled to Logansport for regionals, he annihilated the competition in the first two rounds, pinning his opponents in an average of one minute. However, he placed second in regionals, again falling to Evan Burge of McCutcheon.
There he was again. The first round of semi state—the obstacle that Ty could not overcome in his freshman, sophomore or junior year. He was facing Zane DeVault, a senior out of Plymouth that had gone 37-6 throughout the year, which comes out to about an 86 percent winning percentage. However, Ty was determined to improve from the past years. He wrestled hard, and came out on top, winning by a 5-4 decision and handing Zane DeVault his seventh loss on the year. In the next round, commonly called the "go round" because the winner advances to state, Ty lost to a senior from Crown Point by a technical fall. Despite his loss, Ty was still able to overcome his injury and advance past the first round of semi state, the barrier that had bested him for every year prior to this one. "Being able to get further than I ever have before was exciting, especially after my injury."
The semi state match was Ty's last as an Oracle, as he is graduating in May. Ty finished with 117 career wins, which is eighth all-time at Delphi. However, if he hadn't missed the first half of the season with his injury, he easily could have been top five. Coach Atwood had nothing but praise for him. "Ty has been part of my program since elementary school. He was a quiet leader but went hard all the time. He work ethic and dedication will be missed."
About the Writer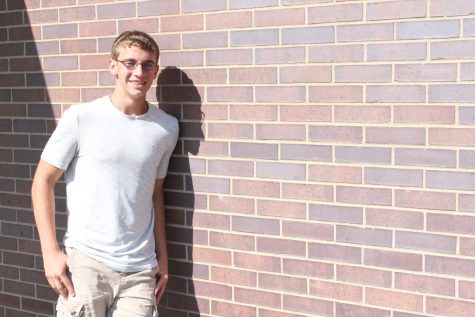 Joe Perry, editor/sports writer
Joe is a senior at Delphi and is in his third year with Parnassus. He plays tennis, cross country, and track, and he is also involved with Bracketology...