Girls' basketball team eager to get season underway
Hang on for a minute...we're trying to find some more stories you might like.
   Over the last few years, the likes of Whitney Arion, Jordayn Jargstorf, and Summer Sutton have left their mark on the Lady Oracle basketball program. Now, a new crop of players hope to do the same. "We are a very, very young team. I'm eager to see who is is going to step up," coach Dan Dawson said. Young they are. Only two seniors, and no juniors, will play alongside the many sophomores and freshmen that make up the rest of the varsity squad.
   One player Dawson is counting on to step up is sophomore guard Danielle Swayze. Swayze played a significant amount of time last season, along with fellow classmate Tatum Minier. When asked about the team's youth, Swayze said, "We are a very young team but our youth brings a lot of energy to the floor. We are a really close bunch and we feed off each other's energy." Dawson said  the biggest struggle of having a young team is keeping them mentally strong, not the energy.
   Dawson and the team hope to improve on their 11-13 season a year ago. To do that, Dawson implemented a new, fast-paced style of game. Dawson said that that style of play fits this team better. "We changed to a fast-pace style of basketball last year at Christmas, and since then, it has really turned out to work for us," Dawson said.
   This new style of play is hopeful to lead the Lady Oracles to a sectional championship. The Oracles lost in the championship game a year ago, and both Dawson and Swayze claim that winning sectionals is a major goal for the team, and for themselves. They hope to do something that Arion, Jargstorf, and Sutton could never do in their time as Oracles. Winning a sectional title, in any sport, is an arduous task that few experience as a high school athlete. Swayze, Minier, and company hope to leave their mark at Delphi, and remember, they are only sophomores with an extremely talented group of freshmen right behind them.
   The Oracles are off to a 4-0 start after defeating Pioneer in the season opener,  Faith Christian  in their opening game of the Indiana Kitchen Classic, Tri County in the semifinals, and then beating cross town rival Carroll to win the 2013 Kitchen Classic.
About the Writer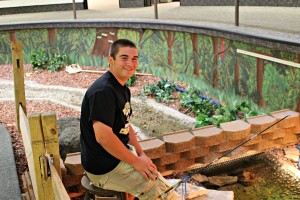 Elliott Atkinson, editor
Elliott Atkinson is a senior and an editor for the Parnassus staff. Elliott plays tennis in the fall and golf in the spring. He is active in French Club,...